Starting July 29 Windows 10 would be made available across 190 countries for different devices like PCs and tablets. To this purpose, Microsoft has already made ready, its website, too launch Windows 10. Microsoft has also published a Quick Guide for Windows 10 on their new official Windows 10 launch website.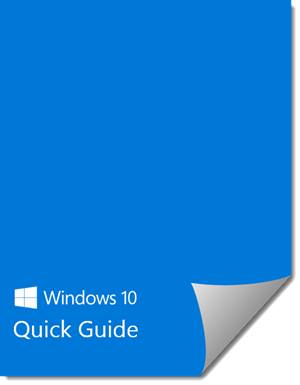 Download Windows 10 Quick Guide from Windows 10 Website
The Windows 10 quick guide contains information on key innovations like Cortana- personal digital assistant for Windows 10, Microsoft Edge, Gaming & Xbox apps and other built-in apps. A quick introduction on all of the new additions to Windows 10 are summarized.
The Windows 10 quick guide also provides details on built-in apps like Photos, Maps, Music & TV, Mail & Calendar etc. Enterprise grade security features like Windows Defender, Smart Screen, Windows Hello which improves the built-in security protection to help keep user's system safe and password-free way to log in to PC quickly. Windows 10 is designed to be fast with features like Hyberboot and InstantGo.
The user guide talks about familiarity and easy to use nature of the operating system with Start Menu getting back to the system with more robust and expanded format, Windows 10 compatibility with existing hardware and software, Multi-tasking and Continuum.
A note on automatic Windows 10 updates, OneDrive online storage service and the all new Windows store with support for universal apps are detailed in this quick guide.
By using Microsoft's new website, one can find about the new Windows 10 features and its roll-out information, reasons to upgrade to Windows 10, global Windows 10 launch events, media assets like documents, videos, product screenshots, etc, in one single place.
You can download the Windows 10 quick guide by clicking here. Visit this web page for some cool Windows 10 tips and tricks.