Recommending one browser over the other is not new. Google had been doing that since ages when someone visits Google.com but using Firefox or Edge. Microsoft uses Windows 10 as its platform to promote the brand new Edge browser. Its good, and based on Chromium, it has its advantages as well. Coming back to the topic, a Windows 10 user cited recommendations in the Start menu where the promotion urged the user to switch from Firefox to Edge.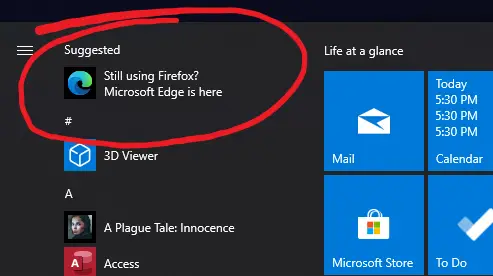 Windows 10 starts advertising Edge
The recommendation comes at no surprise unless you have zero ideas that Windows 10 comes with an advertising feature. The company can use the advertising section to recommend apps, send out promotion details, etc. based on what you have on the computer. Reported by the Reddit user, he is only able to see it because the advertising feature is turned on. Microsoft does that for its products. If you use an old product such as Internet Explorer, you will be asked to upgrade to Edge.
Going through the thread on the Reddit post, it is good to know that a lot of users are reporting Edge to be better compared to Chrome. Some even have suggestions on how they can improve it and so on.
So if you do not like these types of advertisements, follow our detailed guide on how you can turn off these recommendations. Once you do that, you should not see any recommendations from Microsoft on Windows 10.
I am still switching between Chrome and Microsoft Edge, and honestly, they look and feel the same. I sometimes do it unknowingly only to realize it later. For Firefox users, it will be a different experience, so it is straightforward if someone accidentally launches Edge.
Which browser are you using on Windows 10? if using Microsoft Edge, how is the experience so far? Would you like to switch to Edge from Firefox?