It is all going back to where it started, at least with the Browser. The new Microsoft Edge (Chromium) update will be part of Windows Update – just the way it was for Internet Explorer. What is also important is that Windows Feature Updates will be released on a 6-week cycle to make sure Microsoft Edge keeps getting updates. Security and compatibility updates will be shipped as needed.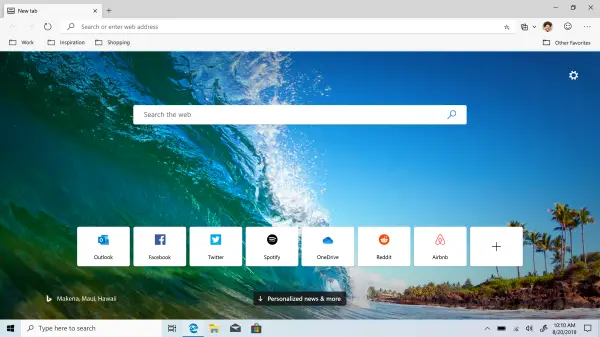 Windows Update to support Microsoft Edge
As of now, Microsoft released feature updates twice a year, but with Edge in place, the cycle shortens to 6 weeks. Looking at the last Windows 10 Feature update, I am guessing we will see a short burst of updates than anything more significant.

You will be able to install Edge Beta, Dev or Canary on Windows 10 separately. Only the Release Candidate will become available with Feature Updates. Here is what will happen when Microsoft Edge becomes part of the OS at the system level.
It will migrate the start menu pins, tiles, taskbar pins, and shortcuts to the next version of Microsoft Edge.

The next version of Microsoft Edge will be pinned to the taskbar, and a desktop will be created.

Most protocols that Microsoft Edge handles by default will be migrated to the next version of Microsoft Edge.

Current Microsoft Edge will be hidden from all UX surfaces in the OS, including settings, all apps, and any file or protocol support dialogs.

All attempts to launch the current version of Microsoft Edge will redirect to the next version of Microsoft Edge.

User-level installs won't trigger these behaviors.

Microsoft Edge will de-register for the 

books and XML protocols

 that the next version of Microsoft Edge doesn't support. You will have to find an application that will help you read it.
Related: 10 Best ePUB book readers for Windows 10
It is a huge step that Microsoft is taking, and Edge update coming via Windows Updates is not something that I can easily digest. Keeping the browser a separate entity makes sure that it can be updated frequently, but when tied with Windows, it slows down. Also, Feature updates will be delivered every six weeks makes me wonder what is that Microsoft has in mind. It is going to be a lot frequent but expecting them to be a lot smaller.