In the upcoming updates, Windows 10 users will be able to hold and drag on the touch keyboard's spacebar to move the cursor, much like iOS. Available to Insiders in the Dev Channel, this feature has been released with Windows 10 Insider Preview Build 20206.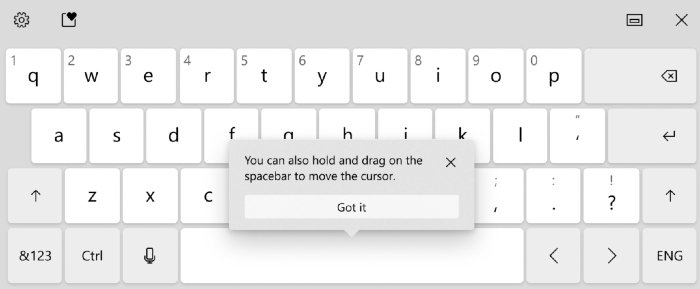 Windows 10 to get touch keyboard improvements
"One thing we heard from our customers is the desire to change the cursor position with the touch keyboard. Based on that feedback, we are updating the keyboard so that you can now quickly do this in any text field using gestures on the space bar," Microsoft's Brandon LeBlanc said in his blog post.
How to move the cursor using the space bar
Open the Windows 10 touch keyboard.
Place a finger on the space bar.
Slide your finger left, right, up, or down.
The cursor will move along with your finger.
Microsoft has promised to bring further improvements to input in Windows 10 in the coming days. Having said that, Microsoft has started rolling out the 'cursor movement using the space bar' feature to select Insider users, to begin with.
This way, Microsoft wants to figure out issues that may impact the performance and reliability of the operating system's functions. Eventually, this feature will become available to everyone in the Dev channel.
Meanwhile, Microsoft will bring a design overhaul to Windows 10's touch keyboard in the near future, the company has confirmed. The updated design includes changes to key sizes and layouts and much more.
In future updates, Windows 10 users will observe a number of refinements including new keypress animations and sounds, a refresh entry point into voice typing, among other changes.
With the release of Windows 10 Insider Preview Build 20206, the Emoji Picker in the Windows 10 operating system has been revamped with various new features and design updates.
In the future, Windows 10's Emoji Picker will go through some design changes and bring features like Emoji Search and GIFs animations.