Microsoft is not letting some users upgrade their Windows 10 operating system to version 2004. Certain Windows 10 users who are trying to install Windows 10 v2004 update have encountered a new setup error: "Your PC settings aren't supported on this version of Windows 10." However, this is not the first time Windows 10 users are facing some error related to their PC's compatibility while trying to upgrade the software.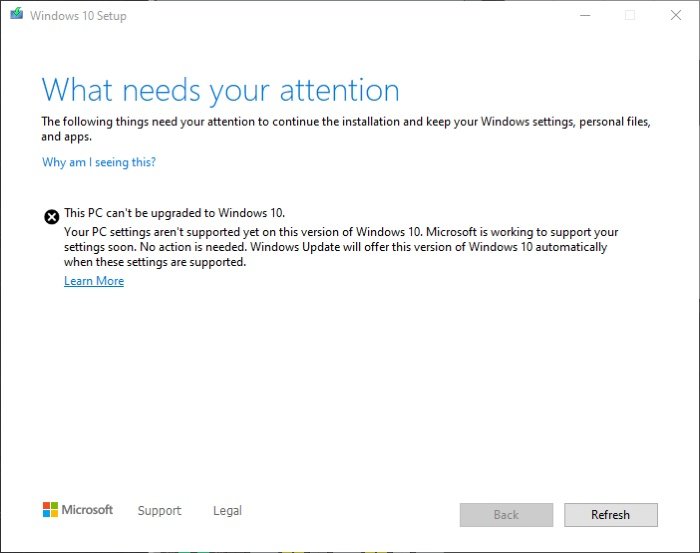 Your PC Settings aren't supported yet on this version of Windows 10
Windows 10 setup throws an error without revealing any specific details:
"This PC can't be upgraded to Windows 10. Your PC Settings aren't supported yet on this version of Windows 10. Microsoft is working to support your settings soon. No action is needed. Windows Update will offer this version of Windows 10 automatically when these settings are supported.
Microsoft has already made Windows 10 2004 update available to those who are running Windows 10 1903 and Windows 10 1909 versions. As a result, interested users can manually check for updates, and if available, they should be able to upgrade to Windows 10 version 2004.
Microsoft is also rolling out the Windows 10 May 2020 Update in a phased manner. In fact, the company supports a whole host of computers that are tried and tested with Windows 10 2004. For instance, Lenovo and Dell have compiled a list of compatible devices.
The block is in place because of various compatibility issues with numerous systems and hardware configurations. A lack of compatible Windows drivers may also be responsible for this trouble.
If you are looking for a workaround, you could update your hardware drivers, and disable Core Isolation and see if the update is offered. But as a matter of abundant precaution, we suggest you wait for the update to be offered to your PC.
As we have noted before, the Windows 10 May 2020 Update is far from perfect. In fact, Microsoft has a dedicated webpage that keeps a track of all the technical issues and problems with the update.
Earlier, some users complained that Windows 10 2004 wouldn't install on their PC due to certain compatibility issues. Back then, Microsoft said, "We 're offering this update to compatible devices, but your device isn't quite ready for it."
Microsoft also offers Windows 10 Update Assistant that runs requirements check and verifies if your PC meets the prerequisites.