Windows 11 is right around the corner, October 5th, to be exact. Once the operating system is ready, the folks at Microsoft will roll it out to millions of supported computers around the world, Now, you can make attempts to install it on your unsupported computer, but you will no doubt see a message explaining why going down that route might be a bad idea.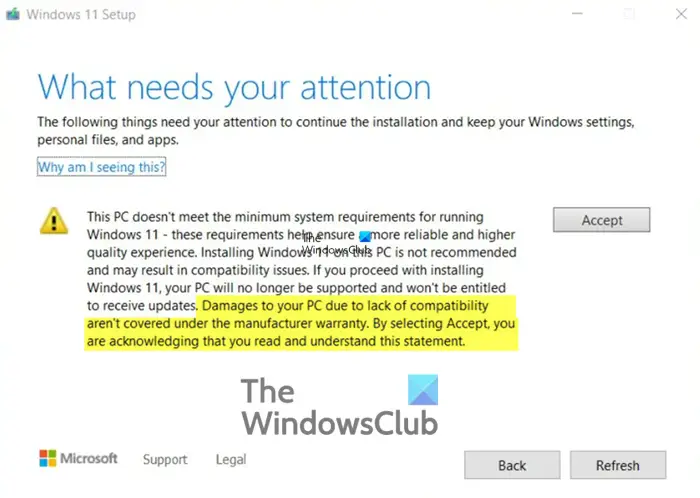 Windows 11 Setup to warn users against installation on unsupported hardware
Windows 11 Setup will warn users against installation on unsupported hardware, so if you choose to install despite the message, then be prepared to lose manufacturer warranty if there is any. Furthermore, your unsupported computer may not receive future updates for the operating system, and that's not a good thing.
Still, this is the risk one must take if they really want to install Windows 11 on an older machine. Things might turn out just fine, but on the other hand, they may not.
Now, if the folks at Microsoft deny you the right to install future updates, you will likely have to find a way to manually install such updates, which could force a clean install each time. So as it stands, the best option here is to invest in a new computer down the line in order to avoid these problems.
At the end of the day, we are happy Microsoft is giving Windows 10 users a choice rather than making the decision for them.
After the release of Windows 11 on October 5th, 2021, we will discuss how Windows 11 performs on unsupported computers to let you know if you should take the risk. Bear in mind that each computer is different; therefore, we won't be able to take all issues or lack thereof into account.