Microsoft sometime ago announced it would be soon making Internet Explorer 10 available to those running Windows 7 machines. The company to some extent has stayed true to its word! The preview version of the Microsoft's proprietary browser is now available for download.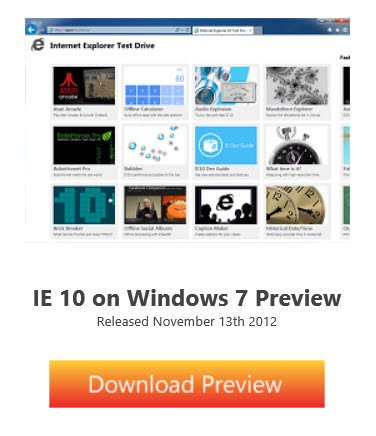 As many of you might know, Internet Explorer 10 is the latest version of the Internet Explorer web browser released by Microsoft, and is the default browser in Windows 8. The completely redesigned version of the Internet Explorer for Windows 7 will bring improved real-world site performance with many developer capabilities and additional standards support that web developers look for.
Roger Capriotti, the product marketing director for Internet Explorer had recently mentioned during an event in China that the the build will be available for download soon. And this has been proved true.
The new generation browser will likely go head-to-head with Google's own Chrome and Mozilla's Firefox. So far, Microsoft has been struggling in finding a way to regain its consumer's confidence. If the company and the browser hope to return back to their glory days, they had to try something new to surely impress their users. Will Internet Explorer 10 be able to make a mark in the browser warfare with its release for Windows 7?
IE10 Preview for Windows 7 Download
You can go get the Internet Explorer 10 Preview for Windows 7 here. Alternately, you may download it from the Microsoft Download Center.
Go here to get Internet Explorer 10 Pre-release for Windows Server 2008 R2.