Windows 7 End of Support is almost here, and starting on January 15, 2020, a full-screen notification will appear for all Windows 7 users, and on all the versions. Microsoft has been asking businesses and consumers to prepare for Windows 7 End of Support for a very long time, and its time.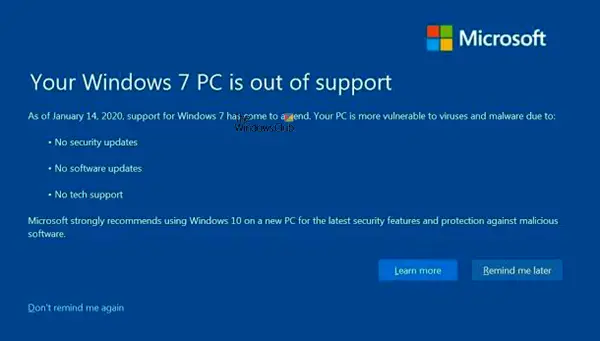 Windows 7 to display a full-screen notification about End of Support
Computers that have updated to Windows 7 Service Pack 1 (Starter, Home Basic, Home Premium, Professional, and Ultimate) will see a full-screen notification. The notification will remain on the screen until you interact with it. It will state the risk of continuing to use Windows 7 Service Pack 1 after it reaches the end of support on January 14, 2020. The only exceptions are domain-joined machines or machines in kiosk mode.
The notification will clearly state that Windows 7 will not receive any update. It includes security updates, software updates, and there will be no tech support for any issues around it. While you can disable the notification, it is time that you either lockdown Windows 7 PC or get the Extended Security Update (ESU) or upgrade to Windows 10.
The only good part from End of Support for general consumers is that Microsoft Security Essentials and Microsoft Office will be supported for the next three years or till their end of the product lifecycle.
Did you purchase the Extended Security Update (ESU)?
Notifications will not appear for Windows 7 Professional and Windows 7 Enterprise. Windows 7 ESU is only available for these two versions. However, if you have purchased ESU and still getting the notifications, follow the KB4522133 methods. If you are a Volume Licensing customer, you need to contact your Account Team CE. General consumers need to reach out to a CSP partner.
I wish Microsoft has rolled out ESU for all versions of Windows. I have few friends who are still on Windows 7 Ultimate, and now they regret buying that version. They will eventually lock down PC from using the internet for a while until they make a decision.