If you're still using Windows 8.1 to this day, it is time to switch to either Windows 10 or Windows 11. This is because Windows 8.1 is closing in on its end-of-support date, and once that happens, users should no longer expect to get security updates.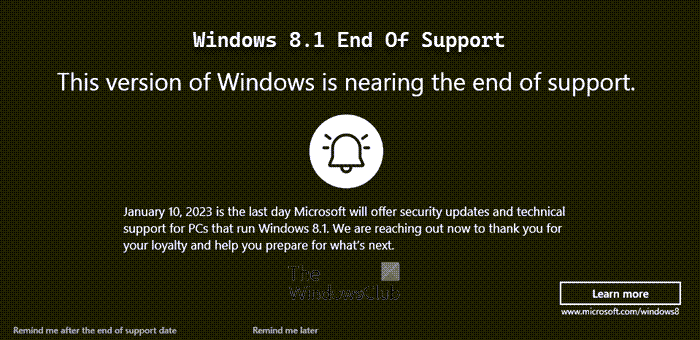 January 10, 2023, is the last day Microsoft will offer security updates and technical support for PCs that run Windows 8.1. We are reaching out now to thank you for your loyalty and help you prepare for what's next.
Windows 8.1 is nearing the end of its support
To bring home the fact that Windows 8.1 is coming to an end, Microsoft has decided to update the OS for it to show a message at startup that makes it clear that the operating system is nearing its end come January 2023.
The notification was made available via the Windows 8.1 KB5015874 cumulative update, which also comes packed with the EOSnotify.exe program designed to showcase a warning each time after a boot.
After seeing the notification, users have two options to move forward. Folks can select Remind me later to see the message again in 35 days, or they can click on Remind me after the end of the support date to see the warning once more after the operating system has reached the end of its support line.
Those who are using Pro and Enterprise devices along with Windows Embedded 8.1 Industry Enterprise and Windows Embedded 8.1 Industry Pro will not see this notification.
Now, there are ways to get rid of this notification if you so wish. To disable it, then, you can change the Registry value of DiscontinueEOS and set it to 1. Alternatively, folks can either upgrade to Windows 10 for stability or Windows 11 for the latest features and improved security for free.