Large Businesses need to deploy Windows 10 on many computers, and they are always modified before the actual process. That's where the Windows Assessment and Deployment Kit or Windows ADK takes the limelight. The tool helps IT admins to customize Windows Images, and test quality and performance. Now that Windows 10 v2004 of May 2020 Feature update is available, Microsoft has made the Windows ADK for Windows 10 2004 also available.
Windows ADK for Windows 10 v2004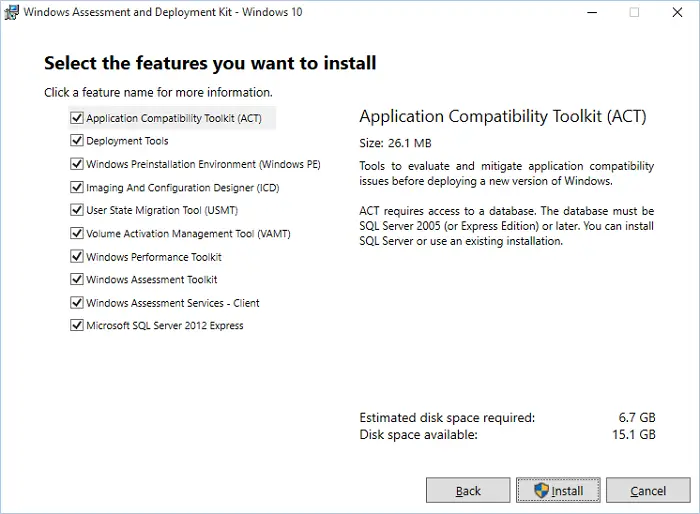 The Windows ADK includes the Windows Assessment Toolkit, Performance Toolkit to assess the quality and performance of systems or components. Then there are deployment tools such as WinPE, SysPrep, and more. This version doesn't bring anything new except for one feature—SkipPDBGen Option.
During WPR stop, you can now specify in the command line the ability to skip a generation of PDBs (NGen & Embedded) to help reduce trace stop time.
wpr -stop <recording filename> <Problem description> [-skipPdbGen]
Windows Performance Recorder or WPR is a performance recording tool that is based on Event Tracing for Windows. However, when it came to stopping the process, WPR creates a folder next to the saved trace that contains PDB files (program database). It is known that the generation of these files takes a lot of time. Now with this, WPR will skip it, and the overall process will be much faster.
Features of Windows ADK Tool
Add branding, applications, and settings
Keep Windows up to date with the latest updates, language packs, and drivers
Identify application compatibility
Migrate user data between Windows installations
Manage volume activation of Windows
Do note that starting with Windows 10 v1890; Windows PE is released separately. You will have to add it manually to the ADK installation. It was done to enable post-RTM updates to tools in the ADK Here are the download links: