Feedback always inspire innovation! Learning from this experience, Microsoft has attempted to accommodate styluses in its latest Windows 10 update. Yes, Microsoft is looking forward to put all the power of Windows in the tip of your pen via Windows Ink.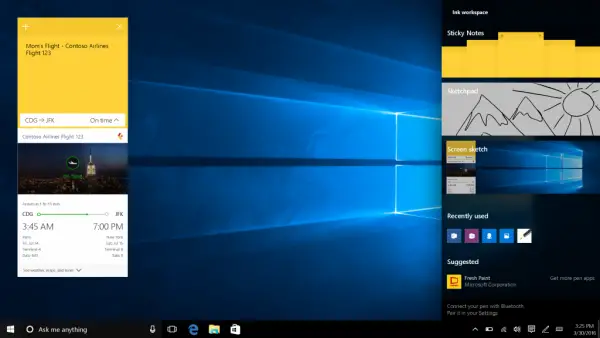 Windows Ink support for Windows Apps
Windows Ink is a new platform that will enable users to write on their device as they do on paper, create sticky notes, draw on a whiteboard, and easily share their work. The service will be integrated into apps like Maps, Microsoft Edge, and Office.
Windows Ink will be available in the Windows 10 Anniversary Update this summer alongside, the Windows Ink Workspace, which appears to be the main destination app within Windows for launching apps meant for writing and sketching. Microsoft is also highlighting pen-enabled apps in the Windows Store.
The software giant believes; these changes will help in broad adoption of Windows Ink in devices this year. For this, the company has already started working closely with its OEM partners. Another way, Microsoft is planning to explore for delivering this capability is via a recent partnership with Wacom.
Wacom, a leader in digital pen hardware, has entered into a contractual agreement with Microsoft to create and produce Windows Ink capable solutions for the ecosystem. This will help provide customers with the best end-2-end Windows Ink experience. Interested buyers can expect the pen to be available at retailers, this holiday season.
Microsoft desires to see a lot more stylus support in its apps. As such, it is trying to allow developers to 'easily and quickly' add Ink support into their apps. This is evident from the blog post description –  with just "two lines" of code, developers will be able to add support for Ink's digital ruler.