Especially for India corporate users, who have been pondering on when to legalize their copy of Windows Operating system, the time is now! Microsoft is currently offering an additional discount to those looking to legalize their copy of Windows in the month of July 2016.
In an email targeted at Indian users, Microsoft has informed that Windows legalization price rise would happen from August 1st, 2016. Users can avail price benefit up to 11.6%, if they legalize their copy in July 2016. Hence users looking to turn their copy genuine must do it NOW.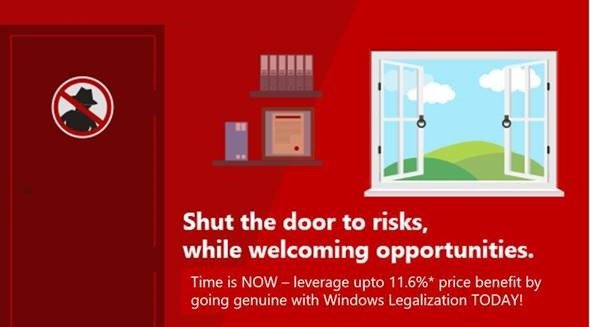 Until July 31, 2016, Microsoft is offering price benefit up to 11.6%. Users will have to get their interest registered through licensing partners or Windows authorized resellers to buy genuine Windows copy.
Why Windows Legalization is so important
For users with unauthorized or pirated copies, legalization is absolutely necessary as it is the easiest way to protect your PC's from malware and data theft. Warning against the use of pirated Windows version that puts the machine under immense security threat, Microsoft mentions that India is the fifth largest country in the World with DNS hijacks and 72% Indian companies faced cyberattacks in the year 2015.
The highest rates of cybercrimes are found in areas with uninterrupted internet connectivity in India.
Your copy of Windows may be non-genuine if you,
Downloaded software online or from unknown sources.
Purchased PCs without an operating system (OS) preinstalled and then used a Volume Licensing agreement to install Windows.
Purchased PCs with Windows 7 Home installed as the base OS and then used a commercial Volume Licensing agreement to upgrade to Windows 7 Professional.
Attempted to save costs by performing in-place motherboard upgrades without acquiring new Windows licenses for those PCs
The risks of using pirated software are high. In case there are reasons that make you believe that your copy may be pirated, you can check to find out if your Windows is genuine. Don't forget that Windows legalization price rise would happen from August 1st 2016.