Microsoft announced an exciting new feature update to its Twitter app for Windows Phone 8 – instant translation of Tweets in a different language than the one you understand. The technology is based upon Microsoft Research's key advancements in machine learning. The update is a birth child of Microsoft's work with Twitter to help Twitter users globally to transcend language barriers.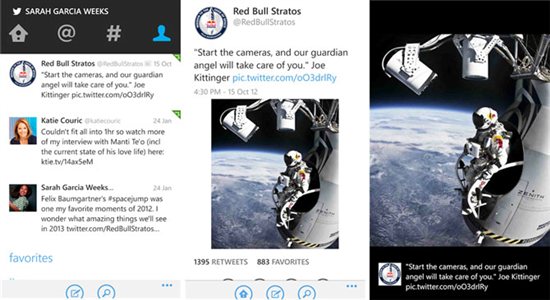 Peter Lee, Corporate VP of Microsoft Research US said in an official blog post:
Breaking down language barriers with world-class research and engineering has been the guiding principle behind the development of Microsoft Translator, and Twitter is an excellent new addition to a community of customers and developers leveraging Microsoft's translation technology for their users. The integration of machine translation technology from Microsoft Research has the ability to broaden any application's impact through a substantial increase in accessibility to real time communications and information sharing. No longer is language a barrier to real time instant connections around the world.
As can be seen in the image, when you tap on a Tweet with a global icon, the tweet expands and shows the translated content right below the original one. The built in translation feature allows you to view tweets by users tweeting in a different language than yours and vice versa. It has support for over 40+ languages.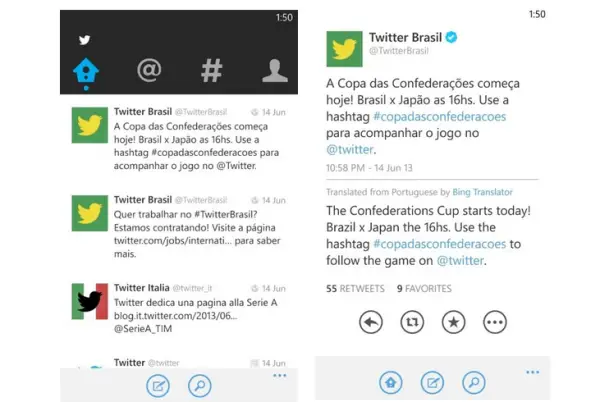 The announcement came at a Microsoft BUILD event during a keynote. Microsoft is showcasing at its Build 2013 event in San Francisco how they can create experiences for their consumer on their Windows platform. Developers can take advantage of the Microsoft Translator API by downloading and using it as a standalone feature in their applications to reach a global audience without being concerned about language and communication barriers.
Microsoft Translator feature has been getting a lot of attention lately, especially since Microsoft created hype that it has added support for fictional Klingon language to the service. When you set a language as your native language, you will also get to see all the tweets that translated to that language. Check out the official Twitter app from the Windows Phone store and leave your comments and reviews on your experience.