Here's a good news for the fans of Star Trek. Bing has added the famous Klingon language into its popular Bing Translator app.  This new addition is certainly a must have for the Star Trek fans who are all set to watch Star Trek: Into Darkness, which will be released on 16th May 2013 in USA.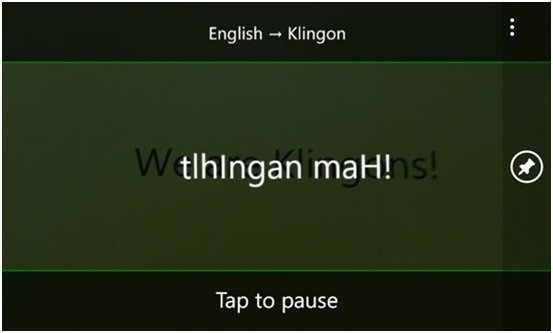 Bing has really made all the Star Trek fans happy by adding this unique application. The popular fictional language Klingon is spoken by the Klingon people featuring in the Star Trek series. In 1985, Pocket Books published 'The Klingon Dictionary' as a novelty item. However, in 2006, nearly 250,000 copies of this book were sold.
What does the Bing Translator have in store
In continuation with the same popularity of this alien language, Bing added it into its Translator app. Now Star Trek fans can translate back and forth between Klingon and 41 languages (known to humans!) the app supports.
The Bing Translator offered several unique features since the time it was launched. It offered unique bi-lingual viewer for webpage translation, powerful customization and collaboration technologies, first JavaScript based in-place translation widget for webmasters and the augmented reality translation within the Translator app. Now the app is introducing a translation for fictional language – simply great!

With the help of web variant of Bing Translator, you can translate web pages and snippets to and from Klingon. Microsoft has made this feature available in the Translator widget as well that lets user choose the language he knows. The Bing Translator on Windows Phone has added Klingon as a supported language for camera phone output and text mode input and output. There are two options for the script, namely Latin-script Klingon and Klingon Script or the 'plqaD'.  Users need to explicitly select the language instead of relying on auto-detect.
Bing has brought the translator in two forms. Fans can use the web version of the translator – and if they have a Windows Phone, they can download the app from Windows Phone's Translator App page.