The official YouTube app for Windows Phone has got a new major update Published by none other than Microsoft, this update provides much more features than the original, mobile site loading app. Previously, it was known that Microsoft was ready to develop a full, feature-rich YouTube app for Windows Phone. This was not the case, as Google apparently blocked Microsoft from using the official YouTube API for Windows Phone. The effect, the official YouTube app arrived on the platform in the means of a hyperlink.
YouTube app for Windows Phone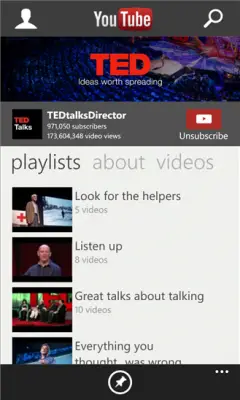 What does the new update bring
The new update for this app (version 3) brings a whole new user interface. Users are greeted with the Trending page, where you can explore what's trending on YouTube. When users watch a video, the video is shown through the app as well as all the description and more (comments, related videos, pin to start, etc.). A most certainly appreciated feature is to also download the video onto your phone! The app also comes with fluid animations that ensures the Modern "Metro" experience. The update finally also brings playback under lock screen support!
The new update also brings access to your YouTube account. You can access your playlists, likes, subscriptions, history, and more.
The new update brings over lots of settings. You can choose your region to filter the YouTube content you want to browse. You can select the default quality of your videos you want to stream (high, medium, and low quality). You can choose what type of network to download your YouTube videos from. You can choose if you want to integrate the app with the Video hub (Xbox Music + Video) and if you want to play your videos under the lock screen. Finally, you can select your video content filter setting.
Featuring the new interface, the YouTube app's header looks similar to the Facebook Beta application's header. The top of the app consists of three buttons; Profile, YouTube Home, and Search. All buttons have a red accent to them, corresponding to YouTube's theme of red. There are animations throughout the app to make it a fluid experience during use, and a panorama is used.
Overall, the new update to the once incomplete YouTube app makes the app robust and a pleasure to use. The update may not be shown in your region yet. Although the YouTube app is currently only for Windows Phone 8 devices, it is confirmed that soon the app will come over for Windows Phone 7 devices.
Download the app from the Windows Phone Store now!