Popular Twitter client for Windows Phone Mehdoh is presently available for free on Windows Phone store. Mehdoh is one of the oldest Twitter client for Windows Phone, which has been around since Windows Phone 7 days.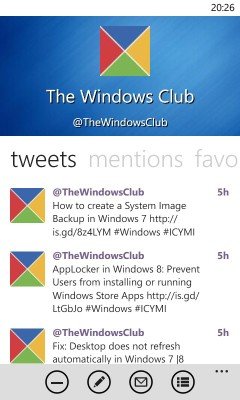 What makes Mehdoh special is its built-in support for Instagram and Soundclound on top of its standard Twitter functionality. Once you have linked in your Twitter account, you will be able to use a full-fledged client. The app offers some interesting statistics figures like it can tell you how often one Twitter user is tweeting a day, and how many lists that person is featured on, and follows. In addition, it also lets you choose the image service – Yfrog, Twitter or SkyDrive you will like to use to upload images on Twitter.
Mehdoh on its official Twitter page says the reason why the app is available for free is in the fact that they have some Twitter tokens left to use.
In case you missed it… Mehdoh is free for a short period due to us having a few spare twitter tokens 🙂 Enjoy!"
Twitter provides a fixed amount of 'tokens' to every third-party Twitter client. The number of tokens determine the number of users that an app can possess. A typical Twitter client gets to have 100K tokens, whereas all old Twitter client possess twice the number of tokens.
Twitter doesn't want new Twitter clients to flourish as much, as it puts more emphasis on people for using the official Twitter client.
Mehdoh is a fantastic Twitter client, and do not forget its support for Instagram and Soundcloud. If you haven't downloaded this app till now, we highly recommend that you do.
You can download Mehdoh for Windows Phone from here.