The technical details with regards to deploying, update, managing and securing Windows 10 and other technologies have been included on the docs.microsoft.com. The documentation covers Windows 10, Windows 10 Mobile, Microsoft Edge, Windows Store for Business, Windows for Education, Surface Hub, Hololens and the Windows Server 2016.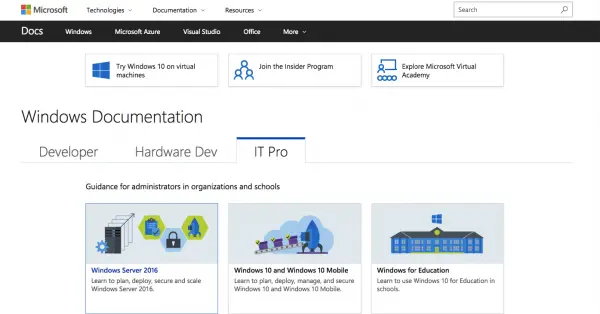 Windows Technical Documentation
It's obvious that Microsoft has migrated from the TechNet Library to the docs and has been committed to making it easier for users like us to find the relevant content across multiple platforms and devices. Microsoft has laid emphasis on usability and has made a slew of changes.
The design is now more responsive, clutter free and scales up to devices and can be read in either a light or a bright theme. The real-time content filter is expected to help you find the content easily with minimum navigation.
Microsoft has designed a new real-time table of content that lets you find the content you are looking out for with relative ease. Yet another feature is the estimated time remaining, each article will come with a feature that tells you the estimated time needed to read the article. Also, one can simply download the PDF of technical documentations including the scenarios on docs.microsoft.com.
In case you want to contribute to the database simply click on the Edit button in the top right menu and go to the corresponding GitHub page. After signing in with your GitHub account, fork the project and then after editing the file submit your pull request. If you want to provide feedback click on comments and add the same.
That being said the Windows IT Center will still stock all the resources that are needed to plan for, deploy and support Windows in an organizational environment. The database is pretty comprehensive and spread across virtual labs, demos, tools, downloads and other troubleshooting articles. Gp check it out at docs.microsoft.com.