WordPress – one of the most popularly used blogging platforms for both personal as well as professional blogs is strengthening its position as more than half of top 100 blogs now use WordPress. The latest study by website monitoring firm Pingdom shows that WordPress is used by 52% of the top 100 blogs this year, up from the 48% noticed last year in 2012. The latest report shows that WordPress is growing as the dominating blogging platform used by the world's top 100 blogs (It's what we are using at The Windows Club too).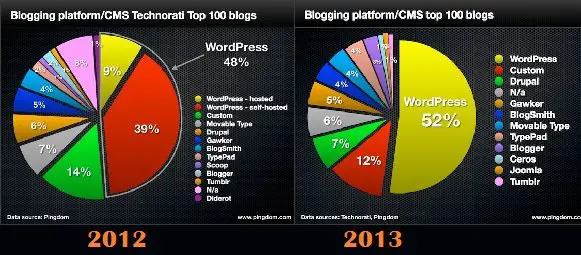 Pingdom reports that out of the list of top 100 blogs 94 were made on WordPress. Joomla which was nowhere in the list last year has shown the growth of 1% and scoop which was at 1% last year have disappeared from the list this year.
Beyond WordPress growing from 48% to 52% of the top 100 blogs, other results of study include:
Custom blog publishing platforms has decreased from 14% to 12%
Movable type blogs has decreased from 7% to 4%
Drupal is increased from 6% to 7%
Gawker and Blogsmith are at same position.
TypePad has grown from 2% to 4%
Blogger has increased from 2% to 3%
Ceros and Joomla entered the list with 1% each
Tumblr is at same position with 1% usage.
Pingdom has put all the WordPress (hosted and self hosted) in one category to simplify the list.
Blogging has changed over the past few years, with the arrival of social media like Facebook and Twitter. When we wanted to express anything online earlier, we used to blog about it, but now we simply share the experiences on the social networks in a line or two.