Xbox Play Anywhere, the digital game was the highlight at E3 this year. E3 2016 in Los Angeles witnessed the biggest lineup of Xbox games, a new family of Xbox One devices and many new gaming features. With a commitment to take Xbox gaming beyond boundaries Microsoft Corp. unleashed a new family of Xbox One devices.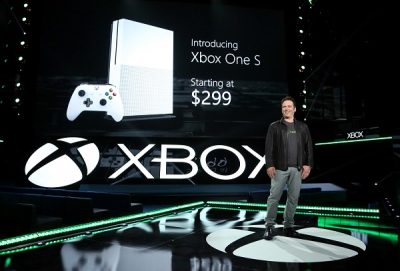 Xbox Play Anywhere
You can now buy any Xbox game and play it on your Xbox One gaming console as well as on your Windows 10 PC without paying anything extra. However, to download Xbox Play Anywhere you first need to get the latest update on your Xbox One console, get the Xbox Live Gold subscription and install the Windows 10 Anniversary Edition update on your PC to use Xbox Play Anywhere. The games played on Xbox Play Anywhere are saved on Xbox Live and can be picked up from the Windows PC. It brings all your saved games, achievements and game add-ons.
Xbox One family of devices
Xbox One S- This is the smallest Xbox device ever. This white colored sleeker and compact Xbox device supports 4K Ultra HD for videos and streamed movies. HDR support of the new Xbox One S will provide an enhanced gaming experience. 500 GB model of Xbox One S is priced at $299, 1TB model is priced at $349 and the 2TB model of Xbox One S will be tagged at $399.
Project Scorpio– Said to be one of the most powerful console, Project Scorpio comes with 6 teraflops and features high-fidelity virtual reality and 4K gaming feature.
New Xbox Wireless Controller- The new wireless controller comes with a textured grip and a Bluetooth radio allowing you to connect it with your tablets and Windows 10 PC. This new controller will be made available by August with a price tag of $59.99.
Xbox Design Lab- The newly launched design lab can provide the personalized Xbox Wireless Controllers. Gamers can select their own color and design through Xbox Design Lab. Cost of getting your very own controller is $79.99, laser engraving will cost you $9.99 extra.
Xbox Elite Wireless Controller –This new controller comes with a battle-weathered design and laser-etched claw marks. It will be made available by October this year with a price tag of $199.99.
Xbox Live
The new Xbox Live introduced with a new slew of features is basically an online community for all type of gamers. It includes-
Clubs on Xbox Live
Looking for Group on Xbox Live
Arena on Xbox Live
Cross-play
Cortana on Xbox One
PC games (Win32) in Xbox Live and
Language Region Independence.
New Lineup of Xbox Games for Windows 10 PC and Xbox One Console
The new range of Xbox games expected to launch this year include ARK: SURVIVAL EVOLVED, BATTLEFIELD 1, DEAD RISING 4, FINAL FANTASY XV, FORZA HORIZON 3, GEARS OF WAR 4, GWENT, HALO WARS 2, INSIDE, MINECRAFT, RECORE, SEA OF THIEVES, STATE OF DECAY 2, SCALEBOUND, TACOMA, TEKKEN 7, TOM CLANCY'S THE DIVISION, and WE HAPPY FEW.
The new Xbox games and accessories are now available for pre-order at Microsoft Store Online and the retail local stores across Canada, the U.S., Puerto Rico and Australia. Head over to the official Xbox Blog for more news on E3.