As Windows 10 release date nears, its progress is going on well. And things are shaping up on entertainment front too. Xbox Music has evolved with new features and now has been renamed to Groove. And along with it, Xbox Video has been renamed to Movies & TV.
Xbox Music renamed to Groove
Let us check some of the features coming to Groove: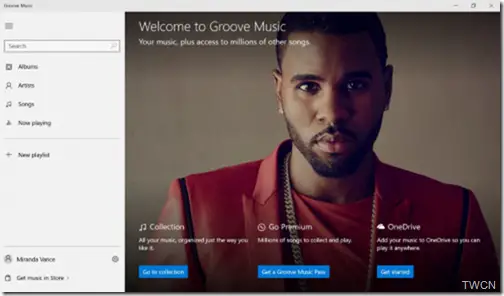 UI :
Its not just the renaming of the Xbox Music to Groove but Groove will also provide
an improved listening experience.

better music management.

easy to use menus

navigation controls that works well with both mouse and keyboard and on touch screen devices

drag you favorite track to playlist

pinch to zoom in or out

hover on taskbar icon to get playback controls

right click contextual menus to pin an album to Start menu

choice of theme or pick an accent color
Easy access across devices:
With built-in OneDrive integration, it'll be easier to access the content across devices. Upload all your MP3s including songs from iTunes and access them all for free using Groove app on any device be it Windows devices, Xbox, web, Android phones and iPhones.
Groove Music pass:
Can sign up for Groove Music Pass subscription.At $9.99/month or $99 /year will provide premium ad-free listening experience. On of the largest music catalog with over 40 million tracks. Subscribers can also create custom radio station based on artist, songs, album. Those who have Xbox music pass, it'll become Groove music pass.
More information on Groove can be checked here.
Xbox Video renamed to Movies & TV
Let us now check Movies & TV :
The Movies & TV app in Windows 10 will provide the best ever experience for playing personal videos, movies & TV shows. Just import the videos and playback in the app. Drag and drop videos between your collections, right-click contextual menus, full screen with easy to use playback controls. .MKV file format too supported.
Movies & TV app is directly integrated with Windows Store.One can directly rent, buy movies and TV shows in HD. And on Windows 10 devices, Xbox and web , the app will let you start watching the content on one device and you can continue where you left on the other device.
Announcing about these developments, Microsoft's Brandon LeBlanc posted that the Windows Insiders who are part of fast ring and upgrade to the next PC build will get to see these apps first. For others this will be made available with Windows 10 starting on July 29th. So for both of these apps, changes will come through first on Windows 10 PC's before rolling out to other devices in the coming months.