Yahoo has something special for small business users this Small Business Week. Yahoo, the leading search engine has launched LocalWorks; a special tool for small business users to help them manage their online listings. This tool gives small businesses the ability to increase visibility online so that the new and current customers can locate them and their services. It also helps the businesses to be noticeable on more than 40 top search engines, and apps.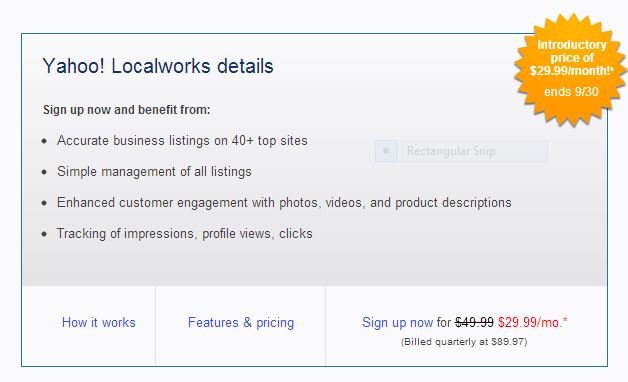 Talking about the new tool, VP Yahoo Small Business Tom Byun said, "Localworks is being launched in connection with Yext, a location software company. It will let companies easily update their online listings in more than 40 online platforms, which will reach 150 million local searchers".
Byun further said, "We saw the need to provide an offering that helps small businesses easily provide the correct information for online listings, as this is a lost opportunity for them".
According to the study report revealed by analysts Andrew Shotland and Greg Sterling, the local merchants were facing $10.3 billion loss in sales just because of the inaccurate and incomplete local listings. The analysts studies around 40,000 local listings and reported that around 43% of the total listings had wrong address. The report further says that many important listings were missing.
As said by Virginia Hines, Senior Project Manager at Yahoo, LocalWorks is targeted specifically to small business subscribers of Yahoo's base.
Localworks integrates Yahoo Local, the feature that let business owners submit basic or enhanced listing data displayed in the Yahoo's local search results along with the location data provided by Yext.
Features of LocalWorks
Corrects the inaccurate listing and add the missing ones
Let small business users to monitor if their contact details are updated or not.
Let the businesses follow public reviews and ratings and respond them via reputation management page.
Includes a special page to show the performance of businesses, impression data and profile views
Allows business users to add relevant videos and photos to their listings
Yahoo LocalWorks is currently available for $29.99 per month.