Yahoo Mail has turned 16, and on this special occasion, the service has got a major update. Among several changes and giveaways, the redesigned interface, changes made to the functionality, and giveaway of premium Mail Plus features to the regular customers are the most important ones.

Implementation of Threads in Email conversations
After waiting for years, Yahoo has finally adopted the "thread" views in emails. This means you will now be able to view the entire email conversation you had in a threaded fashion. Besides that, the search, deletion and starring options in emails can now be taken care of with just one click. You need to hover your mouse over an email, and you will see one-click options.

Visually rich themes
Apart from the functional changes, the interface has got a massive improvement as well. It is thoroughly laced with visually rich themes. You can use custom photos on your themes, else curated Flickr photos are being used by default.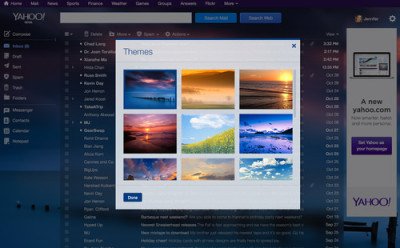 Premium Mail Plus features available to regular customers
As a giveaway, many features which were exclusively available on its premium service Mail Plus earlier have been made available to the regular users as well. Some of such features include disposable email addresses – very handy thing when you have to use an email address for just a few minutes – automatic message forwarding to your other accounts and spam filtering, have been made free as well.
1 TB Storage for all
Yahoo has also increased the storage space of a regular email ID to 1 TB. Something which majority of the users might not take benefit of, but it is nice to have it nonetheless.
All the popular OS – Windows, iOS and Android have got the update. The update is now in effect for English opted users in the US, UK, Ireland, India, Canada, Malaysia, New Zealand, Philippines and South Africa. The update will roll out for other languages and rest countries very soon.
You may download its client for Windows 8 here.