Individuals in an organization can discuss content right from Office applications and get smart suggestions based on their interactions using Yammer. This helps them stay productive. Another addition in the form of creation of new Yammer Groups will extend the utility of the app furthermore. Creation of new Yammer Groups will now automatically initiate a new Office 365 Group for maintaining group membership. In addition to this, Yammer will also offer a SharePoint Site, a OneNote Notebook, and a Planner site for that Office 365 Connected Yammer Group.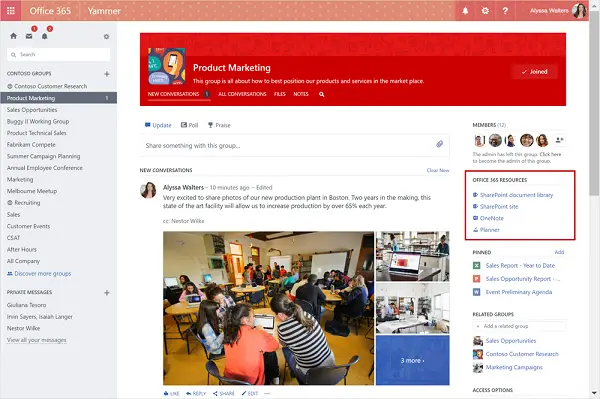 Yammer integration with Office 365 Groups
Yammer precisely acts as a social layer across Office so, integration between Yammer and Office 365 Groups will help connect Office 365 Groups with existing non-connected Yammer groups and remaining Office 365 tenants.
Through Office 365 Groups integration, Office 365 administrators will be able to use query-based group membership in Yammer-based on Azure Active Directory attributes such as role, location, and manager. This will ensure that certain groups based on organizational structure dynamically include the right members.
Today, we are pleased to announce the integration of Yammer with Office 365 Groups. Now, when you create a new group in Yammer, it will automatically be part of the Office 365 Groups service, giving the group a OneNote notebook, a Planner for task management, a SharePoint Online team site and document library. With the integration, you and the members of your group can readily access these shared resources directly from Yammer, said the Office Blog.
The change in setting will affect customers who have enforced Office 365 identity in their networks and have only one Yammer network associated with their Office 365 tenant. Integration with Outlook Calendar is likely to happen soon alongside other great enhancements.
If you have any doubts or product related queries, there's a Yammer Ask Me Anything session coming up, March 7 from 9 a.m. to 10 a.m. PST / 5 p.m. to 6 p.m. GMT.