Yammer Network, the organization level social networking site owned by Microsoft, is now giving you the freedom to include people outside of your company. Till now, Yammer was limited to the organization level only. That means, employees and associates of a company could only be  part of one Yammer network. However, a few days back, the team announced the External Groups. With the new external groups feature in Yammer, users can include people outside their organization in the Yammer group. This is an excellent way to work together with extended teams such as clients, partners, consultants and suppliers.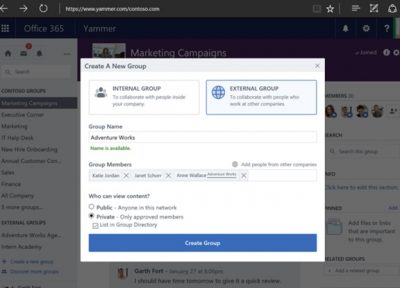 The team mentions the announcement,
"The external groups capability builds on the existing ways to work with people outside your company, such as external networks and external messaging, which enables you to add people outside your organization directly to a thread in your organization's Yammer network."
Yammer Network and External Groups
Yammer Network has been always a 'strictly members only' network. The network connected people across the organization. However, sometimes people within a company want to connect with groups outside the organization for work. This external group mainly consists of clients, suppliers and consultants. To become a part of the external group, team members outside of your organization require appropriate permissions. Once they become part of external group of your company, they can fully participate in the projects and initiatives by providing access to all the conversations and content in the group.
However, the Yammer network team also highlights on the security front and how they have still maintained it,
".. We maintain the security of your network data by listing all external groups in a distinct section under the Groups menu and using clear indicators in the UI alerting users to the presence of external team members. Each external group requires group admin approval for external members to join, and a set of proactive controls via Exchange Transport Rules prevents sensitive company information from being shared. We also added functionality to our data export to help verified administrators see which files and conversations are accessible to external users."
The external groups are now available with your Yammer network. Hence, you can start working with your extended team right away. If you have any questions, go through the Frequently Asked Questions on Office Blogs.