Russia based search Yandex has surpassed Bing, says the a report by Search Engine Watch. Surpassing Microsoft's Bing, Yandex has become 4th largest search engine. The report is based on the number of monthly search queries in the months of November and December 2012. Yandex search engine processed 4.844 billion, whereas Microsoft's search engine Bing processed 4.477 billion queries.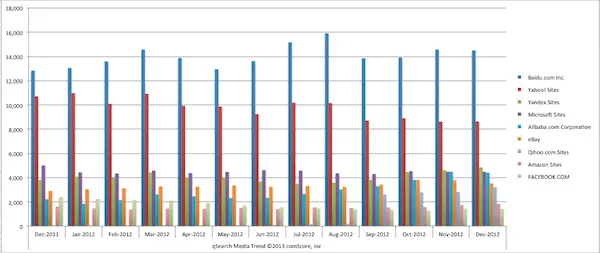 Google is still reigning supreme with the highest number of search queries. Search Engine Watch recorded 114.73 billion search queries for Google which makes about 65.2% of the total market share. Baidu, the China based search engine stood second largest search engine with 14.5 billion search queries making 8.2% of market share. Yahoo was named at third number with 8.63 billion search queries making 4.9% of total market share.
According to the Search Engine Watch graph, Yandex started surpassing Bing in the month of November 2012 with a small difference which gradually converted into a big leap.
In Russian local market, Yandex dominates the graph, however the English version was unable to create the impact. Yandex reigns in its local market with a share of 62% whereas Google holds just 26%. Yandex is not only dominant in its own region, but strong in its nearby territories also like, Ukraine, Belorussia and Kazakhstan.