The New Year doesn't seem to bring good news at all for Microsoft. First, this morning Net application report suggested Windows Phones are still way behind Android and Apple's iOS and now the website's  preliminary data from December shows the company's proprietary browser – Internet Explorer 10 is only being used by a handful of PC users worldwide.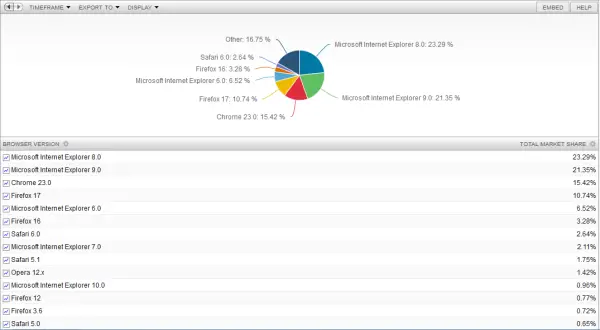 The browser, if you remember well was launched alongside Windows 8 release in late October and later as a preview version for Windows 7 users in mid-November – so this statistic is understandable. The latest market share numbers from Net Applications however reveal IE 8 still remains world's most popular browser with 23.44 percent of the market share. Incidentally, Microsoft has released a 'Fix It' for IE8 to patch a vulnerability that affected the browser.
The higher version, IE 10, which is used on Windows 8, managed to capture 0.96 % last month.  On the other hand, IE9 was up by 0.5 percent and now has a total of 21.35 percentage points. Internet Explorer (all versions) holds a market share of 54.58%.
Other browsers such as Chrome 23 from Google occupies the third position with 15.75 percent while Mozilla's Firefox 17 lies fourth with 10.31 percent.
Net Applications gathers data from 40,000 websites that have over 150 million unique visitors each month.
Update by admin: You have to remember that IE10 is being currently used only on Windows 8 which is a new OS, but that is not the case for the other browsers…