It has been just a day – 24 hours of Windows 10 release to the public, and the response has been great. There were worldwide launch celebrations of Windows 10 . Be it Sydney, Nairobi, London, New York or New Delhi the Windows 10 launch to public was celebrated with fans all over the world. Here are some of the photos shared by Microsoft of the celebrations.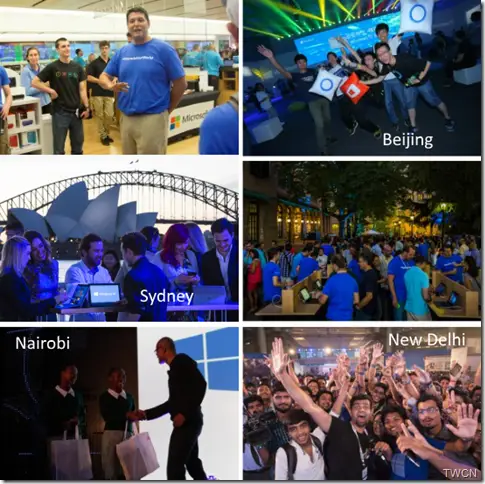 There has been unprecedented demand for Windows 10 and Microsoft has been doing everything to provide the upgrade to the world as quickly as possible. And this will go on for days and weeks ahead. And already there are more than 14 million devices running Windows 10 and there are many more to go.
It has been Microsoft's top priority that everyone has a great upgrade experience. And that's why Microsoft is rolling out Windows 10 in phases. It is delivering Windows 10 first to Windows Insiders. Microsoft is working 24×7 to continue upgrade process. Microsoft has asked its users to have patience as its carefully rolling out in phases to all who have reserved and it may take days and weeks. Quality of upgrade experience is the priority.
Response to #UpgradeYourWorld too has been very enthusiastic.
Windows 10 Reservation and Upgrade process:
Those who have reserved their Windows 10 upgrade via Get Windows 10 app, will be notified once their PC is ready for Windows 10 and has been downloaded on your PC. One can look for notification in System tray as shown below.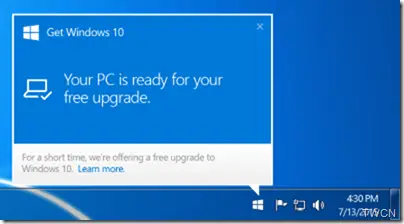 What if one has not reserved? Then, one can get the Get Windows 10 app on their Windows 7 or Windows 8.1 PC to reserve their free upgrade. And what if one doesn't have the Get Windows 10 app? See this post if the Get Windows app is missing for you.
Support options:
There are various support options too available to help
Answer Desk : This offers one-on-one technical support from Microsoft. one can schedule an appointment or connect via chat,phone or in a retail store.
Retailers: There are many retailers like Best Buy, Bic Camera, Croma, Currys/PC World, Elkjøp,

Jarrir

, Incredible Connection and many more with which Microsoft has worked closely.
Thanking its fans, Windows Insiders and partners who celebrated the launch, Microsoft said that they appreciate everyone who upgrade to Windows 10.
Microsoft is heading towards one billion devices running Windows 10 in next few years.