On November 4th, Microsoft will officially launch Kinect to the public with 12 games being available at launch followed by 5 more by the end of November. Preorders are quickly selling out as the much anticipated controller free device gets set to hit the market.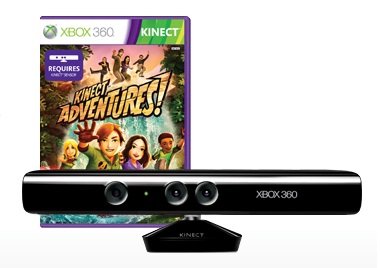 If you're looking for a way to bring the family closer on that traditional Family Game Night, then Kinect may just be the right choice to make to get your family involved!
The all-in-one Xbox 360 4GB Console with Kinect includes the new Xbox 360 4GB console, Kinect sensor and "Kinect Adventures," priced at $299.99 ERP (U.S.). Or for those who have an Xbox 360 console at home, the stand-alone Kinect for Xbox 360 priced at $149.99 ERP (U.S.) includes the Kinect sensor and "Kinect Adventures" and works with the 42 million Xbox 360 consoles currently in homes worldwide.
The list of titles being released at launch include:
Kinect Adventures (Good Science Studio/Microsoft Game Studios), included with every Kinect sensor.Float in outer space. Experience the thrill of roaring rapids. Tackle mountaintop obstacle courses. And dive into the deep sea to save a leaky underwater observatory — all from your living room. With "Kinect Adventures," you are the controller as you jump, dodge and kick your way through exciting adventures set in a variety of exotic locations. "Kinect Adventures" is designed with something for everyone to enjoy and will be available with every Kinect sensor and Kinect bundle sold.
Kinectimals (Frontier Developments Ltd./Microsoft Game Studios), $49.99 ERP (U.S.)/$59.99 ERP (U.S.) limited collector's edition. "Kinectimals" invites children, their parents and animal lovers of all ages to build lasting friendships with some of the world's most exotic creatures. Just like real pets, your feline cubs will come running when they hear your voice, respond to commands such as "jump," "roll over" and "play dead," and purr with joy when you scratch them behind their ears. Limited collector's editions of the "Kinectimals" game packaged with a 7" plush toy that unlocks a new animal and toy in the game will be available exclusively at Toys "R" Us and GameStop.
Your Shape: Fitness Evolved (Ubisoft), $49.99 ERP (U.S.). With Kinect for Xbox 360 and "Your Shape: Fitness Evolved," you will experience the most advanced fitness technology available, your way and on your schedule. The advanced feedback system detects when your body is out of alignment and coaches you to correct your form. Personalize your workout, challenge your friends and share your progress while achieving real results.
Dance Central (MTV Games/Harmonix), $49.99 ERP (U.S.). From the creators of "Rock Band" comes the next great music experience: "Dance Central," the first controller-free, body tracking, fully immersive dance video game that helps you take your moves to the next level. Featuring more than 90 routines and 650 dance moves, every routine has authentic choreography for beginners and experts alike to master, alongside a killer soundtrack that spans today's current pop, hip-hop and R&B artists. You won't just learn the dance moves — you'll own the dance floor.
The Biggest Loser Ultimate Workout (THQ), $49.99 ERP (U.S.). Based on the hit television show, "The Biggest Loser Ultimate Workout" comes to Kinect offering the ultimate workout experience. Complete your fitness program using the interactive motion control sensors providing real-time feedback. From a body analyzer and recipes to personalized tips and a video diary to track your journey, "The Biggest Loser Ultimate Workout" fitness game has it all to drop the weight and change your life.
DanceMasters (Konami), $49.99 ERP (U.S.). The pioneer of the franchise that started the dance game craze, Konami introduces a brand new way to experience music and rhythm. The next generation in full-body dancing is finally here.
Kinect Sports (Rare/Microsoft Game Studios), $49.99 ERP (U.S.). The first full-body, controller-free sports game that lets you physically compete with friends over Xbox LIVE, "Kinect Sports" is so real, you will almost feel the wind in your hair as you fly over hurdles and the sand in your toes as you set, bump and spike your way to volleyball victory. With six full sports — Soccer, Beach Volleyball, Track & Field, Boxing, Bowling and Table Tennis — "Kinect Sports" is the only title with a Team vs. Team mode, allowing the whole family to play in a fast-paced tournament style competition.
MotionSports (Ubisoft) — $49.99 ERP(U.S.). Grab your friends and rush the living room, it is time to catapult into the wide world of "MotionSports." Race down the slopes of a Super G slalom, score a mind-blowing penalty kick, duck-and-run your way to a game-winning touchdown, or throw punches at the champ as you test your skills in more than 40 awesome sports challenges. The "MotionSports" live in-game commentary will follow your hits and misses, as you compete to go from local hero to a global sports phenomenon.
Kinect Joy Ride (Big Park/Microsoft Game Studios), $49.99 ERP(U.S.). "Kinect Joy Ride," the first controller-free racing game, will take you and your friends on the ride of your lives — no driver's license required. "Kinect Joy Ride" combines wild kart-racing excitement with the effortless fun of full-body gaming possible only with Kinect for Xbox 360. Go solo or compete with up to eight players over Xbox LIVE to take on the world.
ADRENALIN MISFITS (Konami), $49.99 ERP(U.S.)."Adrenalin Misfits" thrusts gamers into unbelievable fantasy worlds with exciting, sideways-stance boarding battles in amazing environments. It's not just a race, it's a battle!
Fighters Uncaged (Ubisoft), $49.99 ERP(U.S.). Charge head-first into the vicious world of illegal free-fighting tournaments, where you will use every muscle in your body to battle your way to the top. Forced into a secret tournament, Simon must use what he learned from his father, an ex-boxing champ, as he faces off against violent combatants who will brutally unleash a range of mixed martial arts attacks to take him down. No guns. No blades. Your body is the deadly weapon.
SONIC FREE RIDERS (SEGA), $49.95 ERP (U.S.). Sonic is speeding onto Kinect for Xbox 360 in an action-packed experience unlike any other. Become your favorite character as you jump on your board and compete in adrenaline-fueled races against tough competition. For the first time use full-motion body control to twist and turn your way through a range of stunning courses.
Followed by:
Harry Potter and the Deathly Hallows — Part 1 The Videogame (Electronic Arts/EA Bright Light), $49.99 ERP (U.S.), Nov. 16. "Harry Potter and the Deathly Hallows — Part 1 The Videogame" is the most challenging yet, packed from start to finish with action and combat. Playing as Harry, you are on the run from the opening sequence, fighting for survival on a desperate and dangerous quest to locate and destroy Voldemort's Horcruxes. And with 22 exclusive Kinect challenges, conjure the weapons of magical warfare where your motions make the magic, only on Xbox 360.
EA SPORTS Active 2 (EA SPORTS), $99.95 ERP (U.S.), Nov. 16. "EA SPORTS Active 2" with Total Body Tracking will combine motion tracking from Kinect and heart rate data from the included wireless heart rate monitor to provide true fitness results. Users will be able to track and share their workout data online through automatic uploading from their online connected Xbox 360 consoles to their personalized EA SPORTS Active profile.
Game Party: In Motion (Warner Bros. Interactive Entertainment), $39.99 ERP (U.S.), Nov. 18. The popular party game value series comes to Kinect for Xbox 360. "Game Party: In Motion" lets players engage in true-to-life motions with 16 games appealing to people of all ability levels, ranging from sports such as Hoop Shoot and Darts to arcade and party games, including Rootbeer Tapper, Table Hockey and more.
Zumba Fitness (Majesco), $49.99 ERP (U.S.), Nov. 18. Join the party with "Zumba Fitness," a one-of-a-kind, dance fitness workout set to sexy, high-energy Latin and international music. Find your rhythm and let go as "Zumba" instructor fan favorites Gina Grant, Tanya Beardsley and "Zumba" creator, Beto, guide you through 30 routines that will work you into a sweat and make you forget you're even exercising.
DECA SPORTS FREEDOM (Hudson Entertainment), Price TBA, Holiday 2010. Hudson Entertainment is taking sports to the next level with 10 sporting events you play using your own body in "DECA SPORTS FREEDOM." No controller necessary — just move yourself as if you were playing the sport in real life. Spin, throw and smash your way to victory across all of the included events: tennis, boxing, archery, paintball, beach volleyball, dodge ball, kendo, mogul skiing, snowboard cross, and even figure skating.
To preorder your Kinect Device and Games visit The Microsoft Store , for games type games for Kinect to bring up titles.