Microsoft is filled with millionaire guys and gals, and rightfully so since the company is so successful. The question is, though, what do some of these millionaires/billionaires Microsoft faithful's have done with their money over the years. Some of them have left Microsoft, while others are still serving the company in some shape or form. Let's get a low down on who these guys are and what they tend to spend big money on.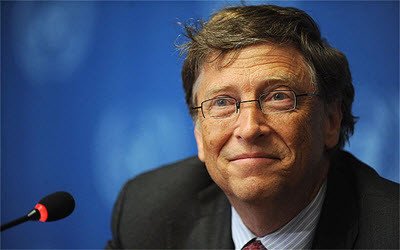 Bill Gates:
The man of the century, the Kingpin, the Daredevil, the definitive top man at Microsoft. This man is the world's richest man, and as such, has spent his money on several things and projects over the years. But the most magnificent would have to be the $38 million he used to purchase Winslow Homer's "Lost on the Grand Banks."
What's that you ask? Nothing but a painting that was created in 1885. Yes, old rich guys do love to fit their homes with expensive paintings.
Steve Ballmer:
Love him or hate him, Steve Ballmer was one of Microsoft's most active executives, and even more so when he became CEO. This man is literally adrenaline itself in human form.
What did he do with his money after leaving Microsoft? Oh, he bought a whole basketball team for $2 billion. It's all about the Los Angeles Clippers for this guy, though like Microsoft, the team is not performing that well.
Paul Allen:
Everyone who knows anything about Microsoft should know this guy. He is a co-founder of the company, but not as prominent when compared to Bill Gates. As expected, he's a billionaire down to this teeth, and as we mentioned above, old billionaires just love to purchase sports teams.
This man owns an enormous yacht with a submarine onboard. That's right, kids, a submarine. He's also the owner of the Seattle Seahawks and the Portland Trailblazers.
Charles Simonyi:
This guy oversaw the creation of Microsoft Office, so no doubt he's rich as nails. He left Microsoft back in 2002, unfortunately, but that did not stop him from taking two solid trips to the International Space Station.
See that kids? If you want to go into space without ever becoming an astronaut, become a billionaire.
Gabe Newell:
Wait, what? Gabe Newell once worked for Microsoft? Not many PC gamers had the slightest of ideas that Gabe worked for Microsoft back in the day. He served as a producer on the first three Windows operating systems Microsoft released to the public.
He left Microsoft in 1996 as a millionaire and went ahead to form the company PC games have come to know and love Valve. As all should know, Valve went ahead to bring forth Steam, and Steam went ahead to bring forth millions of happy PC gamers.