Anonymous launched a massive hack attack on hundreds of leading Israeli websites, in support of the Palestinian people. The attack was codenamed #OpIsrael and was launched in protest against Gaza Operation – Pillar of Defense.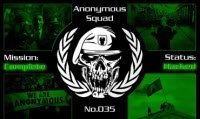 Several important Israeli government websites including the Foreign Ministry website were bought down. The entire database of the Israeli Foreign Ministry's international development program has been deleted.
The massive hacking attack follows a press release put out by the Anonymous collective on Wednesday, in which it said:
For far too long, Anonymous has stood by with the rest of the world and watched in despair the barbaric, brutal and despicable treatment of the Palestinian people in the so-called 'Occupied Territories' by the Israel Defense Forces.
The goal of the attacks, the statement said, was to "protect the rights of the Palestinian people."
Anonymous tweeted: …Yes, over 9000 websites are down or defaced right now for #OpIsrael… There is so many defaced Israeli websites right now, that we just made a list of them…
Other websites which have been defaced include local tourism companies' pages, those of Kadima party, Bank of Jerusalem, Tel Aviv Municipality, a jeep tour company, a locksmith company, allbiz.co.il, fashion accessory companies and even a blog, reports The Jerusalam Post.
Most of the hacked sites were still unavailable but others displayed pro-Palestinian images and messages.
Also read: Israeli Finance Minister: Israel successfully beat back hackers.