Hackers group, Anonymous India hacked IIPM (The Indian Institute of Planning and Management) websites yesterday on Saturday February 17, 2013. The Indian Department of Telecom (DoT) has issued an order for ISPs to block about 78 URLs.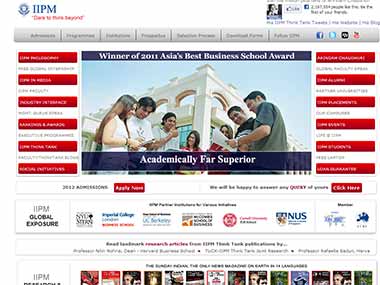 IIPM.edu and IIPM.in are hacked and brought down by the hackers. Anonymous India hacked the websites as revenge to the DoT order according to which the Internet Service Providers were asked to block more than 73 URLs having the critical IIPM articles. DoT order to block these 73 URLs was released by Gwalior District Court as reported by Times Of India.
The court order also includes a notice issued by UGC (University Grant Commission) which states, "IIPM is not a university within the meaning of section 2(f) of the UGC Act, 1956″.
The hacker's attack was initially done on IIPM.in which also affected IIPM.edu as both websites are interlinked with each other.
UGC is a government page and it has been blocked for the first time. Twitter, the social networking website is flooded with jokes on blocking UGC page and on IIPM Chairman Arindam Chaudhuri. Twitter is crammed with users' comment on hackers' groups, Anonymous India hacking government pages and forcing them offline.
IIMP and UGC were the most common topic trended on Twitter in India this Saturday.