Apple Mac turned 30 years old yesterday on January 24, 2014. The Cupertino-based company yesterday hosted a short video on YouTube to celebrate 30 years of Mac innovations. The official home page of the company also shows the 30th birthday celebration of original Macintosh.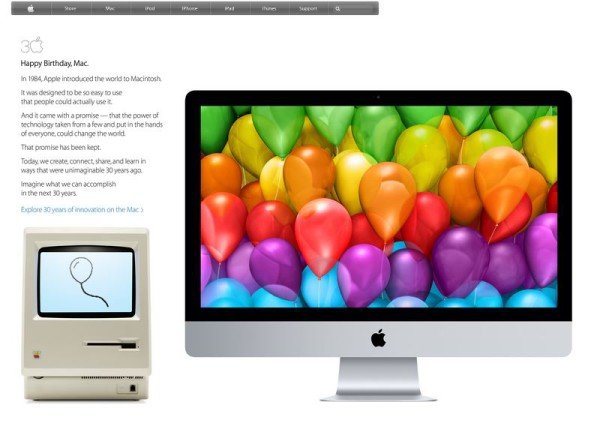 Apple launched its first computer Macintosh on January 24, 1984. The 2.53 minutes long video shows the 30 years of innovation. You can check out the 30 wonderful years of Mac from the special section of the official website with a side scrolling menu of 30 sections, starting from 1984-2014.
You can pick any period and explore the improvements and progresses of Mac in that particular period. The first sections highlights the tagline "the computer that changed everything", which unsurprisingly belongs to Steve Jobs.
The first sections show the original Macintosh with a quote of Steve Jobs.
"We're just in the beginning stages of what will be a truly remarkable breakthrough for most people — as remarkable as the telephone." The last section in the timeline shows year 2013 featuring Mac Pro with a tagline "Creating the Future'.
Every section contains its story of innovations with relevant personalities, quotes and pictures.
In an interview with Macworld Apple's senior vice president Philip Schiller said, "Every company that made computers when we started the Mac, they're all gone. We're the only one left. We're still doing it, and growing faster than the rest of the PC industry because of that willingness to reinvent ourselves over and over."
Furthermore, the timeline also demonstrates how people have used Macs over the years. The lavish timeline also asks your personal Mac story, too. At a specially designed page 'Your First Mac' you can share which machine you started on, where you lived, and how you used it.
The Macintosh is undoubtedly one of the most important Apple products thus far, and TWC congratulates Apple on its 30th birthday.