Apple has released a COVID-19 Screening Tool in the wake of the coronavirus COVID-19 outbreak. The new app, as well as the website, aims to help people stay informed amid the challenging situation. Apple's COVID-19 app and website is based on the updated guidance from the Centers for Disease Control and Prevention (CDC).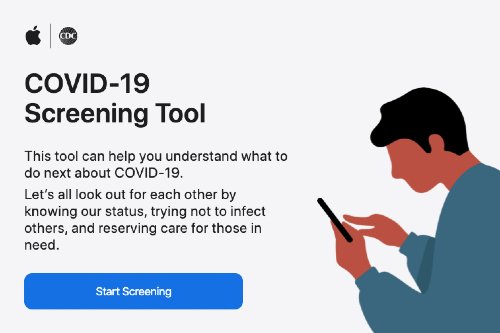 Apple launches COVID-19 Screening Tool
The iPhone maker wants people to use its app and website to stay informed and protect themselves from the spread of coronavirus. Apple's COVID-19 app is available on the company's App Store.
Apple's COVID-19 app and website were born out of collaboration with the Centers for Disease Control and Prevention, the White House Coronavirus Task Force, and the Federal Emergency Management Agency (FEMA).
In its official blog post, Apple wrote:
"This week, travelers landing at select international airports throughout the US started receiving notifications on their iPhone to remind them of current CDC guidance to stay home and monitor their health."
The website allows uses to check for coronavirus symptoms by allowing them to answer a series of questions. Based on their responses, users will receive further instructions and recommendations from the CDC.
The CDC will also provide users with guidance on social distancing and self-isolating, among others. It's expected to serve as an additional resource while the company doesn't intend to replace instructions from healthcare providers.
Interestingly, you are not required to sign-in using your Apple ID to access these tools. The company ensures your responses will not be shared with Apple or any government organization.
The portal provides users with an option to tap on the button, which says 'Start Screening' You can decide whether you want to use the screening tool for yourself or someone else. Apple's COVID-19 website is accessible at apple.com/covid19.
Meanwhile, Microsoft allows users to track the coronavirus COVID-19 outbreak in real-time using Bing's tracking tool. The website allows users to check the number of active cases, deaths, recovered cases, among others. It also offers news related to a specific region.
Microsoft's COVID-19 tracking website is accessible at bing.com/covid.
In related news, Google's COVID-19 web portal provides users with healthcare information, safety and prevention tools, data and insights, and resources to help. Google's COVID-19 portal is accessible at google.com/covid19.