The epic patent fight between Apple and Samsung Electronics resumed on Thursday December 6, 2012. The top Smartphone sovereigns are again in a federal courtroom to fight for the rights to vital smartphone-related technology.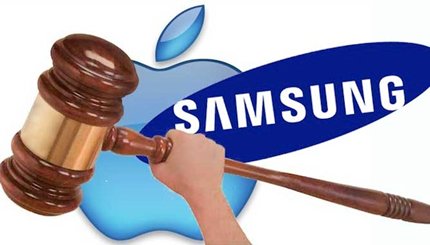 Samsung and Apple are still seeking judgments to some remaining questions. Both the parties are in courtroom again for the same reason. The battle between the two tech giants, started long back in August when Apple indicted Samsung for "violating some intellectual property rights", has been frayed for long.
Samsung Electronics, the Korean tech giant had brought up the allegations of jury misconduct back in August 2012, in order to overturn the verdict. The jury had charged Samsung a penalty of $1 billion for ripping off Apple's designs and using Apple's technology in handful of its devices.
On the other hand the Californian Company Apple Inc. is looking to ban the sale of older Samsung products in U.S and to add $500 million to the penalty. Apple may be able to convince the judge to increase the damages it's been awarded, hoping to get money to cover losses in the time since the verdict was first delivered. There's also the possibility that the initial billion-dollar verdict may be tripled, but legal analysts consider that highly unlikely.
Samsung would face a hard time with even greater damages if Apple's lawyers succeed in convincing the federal court that Samsung Galaxy Tab has copied iPad's designs. The lawyers from both the firms will file the case into a San Jose Federal Court. Ultimately the case is expected to land in Washington DC Court, US Federal Circuit Court of Appeals which decides the patent disputes.
Via Associated Press.