As we know, Bill Gates is best known for his philanthropic work in global healthcare initiatives. The billionaire entrepreneur and an American business magnate who recently stepped down from the board of Microsoft, the company he founded in 1975, to focus more on his philanthropic work, is encouraging people to come forward and join the Gates Notes Insider community.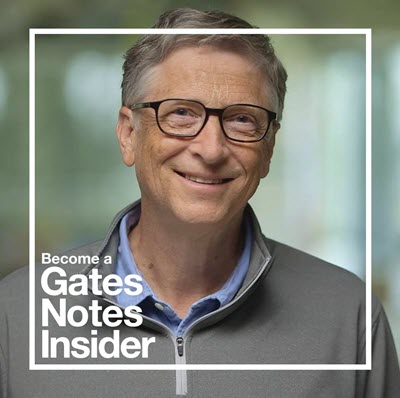 Earlier, Bill Gates said in one of his introductory videos about the Gates Notes Insider community:
"We need a lot of ideas here (at Gates Notes Insider). So, I'm counting on you"
Become a Gates Notes Insider
The Gates Notes Insider is an initiative that started as an awareness campaign about Alzheimer's disease a few years ago. A community of people who are part of the Gates Insider is known for generating great ideas that address various global healthcare issues. Meanwhile, the Gates Notes website says:
"Join the Gates Notes community to get regular updates from Bill on key topics like global health and climate change, to access exclusive content, comment on stories, participate in giveaways, and more."
Those who are part of Bill Gates' Gates Notes Insider will continue to receive updates from Bill Gates and Bill & Melinda Gates Foundation, which is fighting against the ongoing pandemic. Some of the primary topics of the discussion include climate change and global health.
If you happen to be a member of the Gates Notes Insider community, you get to access exclusive content, participate in giveaways, among other things.
Becoming a Gates Notes Insider is fairly simple. All you need to do is sign up on gatesnotes.com.
There are multiple ways you can create a Gates Notes account and become a Gates Notes Insider. You can sign up with Facebook or Twitter or your email. Once you sign up, you will receive a verification link on your registered email address.
If you wish to receive email communications from my Gates Notes account, go to Account Settings and click the toggle switch next to "Send me updates from Bill Gates."