Bing Search has been helping the users with the factual, as well as technical instant answers for some time now and the latest update posted on the Bing official blog states that a Run troubleshooter button that will directly run the troubleshooter, when you click on it, will soon be added in the template.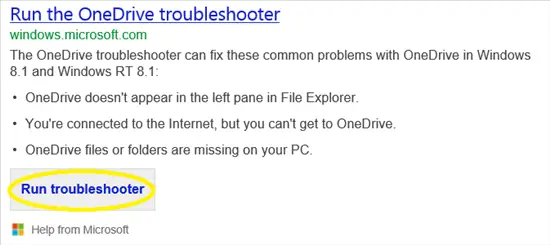 Team Bing  keeps working on their search engine to make it even more productive, and this latest update will surely improve the search  experience. Back in October 2014 Bing added the feature of providing technical instant answers and automated solutions for queries about Microsoft products or technical support issues.
With this new and updated template, users can now run the technical support troubleshooters directly from the link provided with the answers to their technical queries. Running the troubleshooter automatically fixes common problems.
While the new Bing template has started rolling, it may take some days to be available for everyone. At the time of posting this news, I can't really see the new and update Bing template, but I am looking forward to it. But if you want to see it right away, via Bing Settings, change your Country/Region to United States (English) and then search.
Search for "OneDrive Troubleshooter" and check if you can see the new Bing template.