Bing Ads today announced Hero Ads, a brand new ad experience of Bing integrating Bing Ads and Windows 8 greatly. Hero Ads are visual ad units and are only accessible via the "smart search" within Windows 8.1.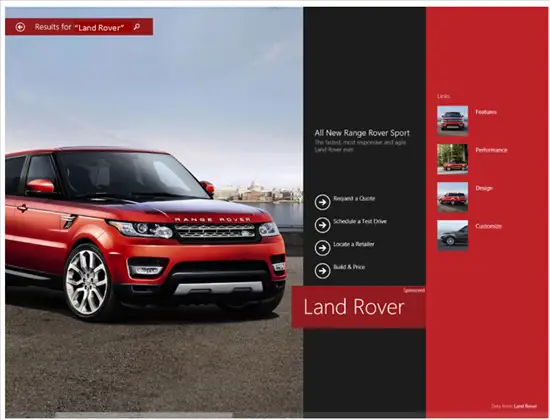 Hero Ads are the visual ad formats appearing more like a landing page on your PC screen rather than a usual advertising by Bing. Users searching for specific brands on Windows 8.1 Bing Smart Search will only see the Hero ads as they take the place of regular web results.
For example users searching for "Cruise Lines" won't see the Hero Ads but those searching for "Norwegian Cruise Line" will do. These huge advertisements are tied directly into Windows 8.1.
Microsoft is presently testing the Hero Ads experience with a few leading brands in US which include Hertz, Radio Shack, Norwegian Cruise Line, Home Depot, Jaguar, Volkswagen, Land Rover and a few more. Further expansion will be based on the solicit feedback from both marketers and users of Bing Ads.
The official Bing blog post says, "The goal of the new Hero ads is to combine user intent, branding and task completion for consumers. From an advertiser perspective, it enables advertisers to get all the most important and relevant information before consumers, with plenty of call to action.
Hero ads are only displayed for users searching for specific brands in Windows 8.1 Bing Smart Search.
With this, Windows 8.1 users should get all set for seeing large ads delivered to their desktop – unless of course you chose to disable Bing Search itself in Windows 8.1