It's been a while since Microsoft announced Sway as its interactive presentation app which helps users create and share their web-based expressions and ideas straightaway using images, text, videos etc. Expanding their list of built-in sources the company today announced the integration of Bing Image Search to Sway making it even more aggregated and interactive.

This integration will help users with their content/image searches and also help them adding the search results to 'Sway' directly, without leaving the app. It will also help the users getting best relevant images (with Creative Commons Licenses) according to the previously add Sways.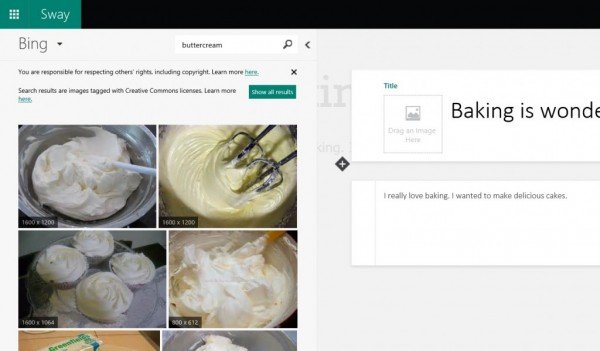 Team Microsoft promises more expansion of the services into Sway making it easier and more useful for users. Microsoft says,
"This was the first example of the powerful machine learning and intelligence platform we're building to make it easier than ever for you to bring your ideas to life. Sway will become an even more personalized content creation assistant: learning your preferences, anticipating your needs, and working for you to help you get more done, more quickly."
You can now drag and drop any image from the Bing Image Search results right into your Sway without downloading it on your device. Just put right keyword in the search bar and Bing Image Search will bring you the best results along with the source URL. You can thus review the license terms before using the image further. These license terms and the image source are also visible to the viewers you have shared your Sway with.
The Bing integration not just helps you with image searches but also helps you in creating presentations but anticipating your requirements. According to your previously saved Sways and your content searches, 'Sway' will now suggest you the related Bing image searches which are accessible through just a single click or tap on your touch-enabled devices. It works on natural language basis and provides the relevant results as you add the words to your Sway.