Bing has been bringing in a slew of updates for its platforms and the latest one to make it to the build is the Bing iMessage Extension. Needless to say, the extension is meant for Apple users and aims at helping them express themselves with GIF's, search, share places, movies and more from the web, all without leaving the conversation window. For those of you interested get the Bing app for iPhone and enable the Bing iMessage extension on the iMessage.
iMessage extension for iPhones from Bing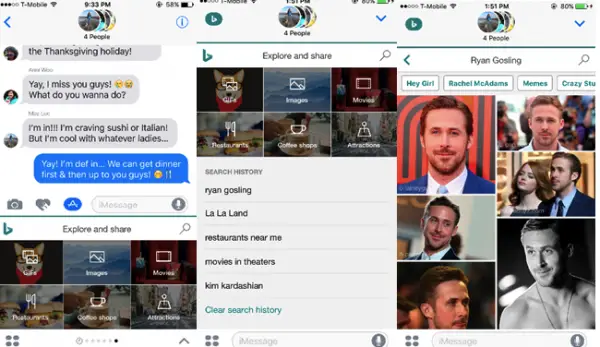 Sharing link and media items can be easily done by heading over to the share option. It is here that the Bing extension asks whether you want to share images, movies, restaurants, attractions or coffee shops. The deal here is that instead of sharing links one can directly share the stuff in the form of cards.
For instance, if I want to plan an outing with my friends in a popular restaurant I can simply send the Restaurant card. The card will also come baked in with more information including reviews and show timings. This is something that is sure to help the next time you are making a group movie plan or a group meal.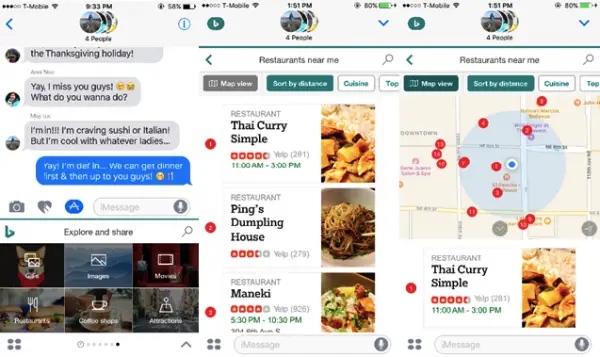 One can also search and then share the multiple restaurants in the group. Previously one had to keep sifting through a ton of links and media files in order to make a movie or an eat-out plan but now with the iMessage extension that is passe. Also if you are in a mood for some humor check out the GIF library and send some cool and funky GIF's that suit the mood.
We also hope that the same extension will be offered on Facebook Messenger in a Chatbot avatar. Earlier this month Bing had announced a new feature called Bing Sportscaster which would ensure that you never miss the score of your favorite football match.