Windows 10 November had been hit by bugs around File Explorer. A lot of reports are coming in, and we checked as well, that the Windows search is blank and not working on File Explorer and Start Menu. While there is a fix available, the culprit behind appears to be the Bing integration.

UPDATE: The issue has now been fixed. You may need to reboot your PC to get it working.
We are aware of a temporary server-side issue causing Windows search to show a blank box. This issue has been resolved for most users and in some cases, you might need to restart your device. We are working diligently to fully resolve the issue and will provide an update once resolved, says Microsoft. In rare cases, you may need to manually end the SearchUI.exe or SearchApp.exe process via Task Manager.
Windows 10 Search Result page breaks
Bing integration first appeared in Windows 10 v1903 when Cortana and Windows Search were separated. The search looks a lot better, but it still shows Bing web search results in the results. If you are using Bing in Windows 10, then you will have this issue. Otherwise, everything should be working fine.
The possible reason could be because Bing.com is currently facing outage problems.

Microsoft has also tweeted,
We're investigating a potential access and latency issue with multiple Microsoft 365 services.
How to disable Bing Integration
While one can use the Registry to disable Bing web search, our freeware Ultimate Windows Tweaker lets you do it with a click.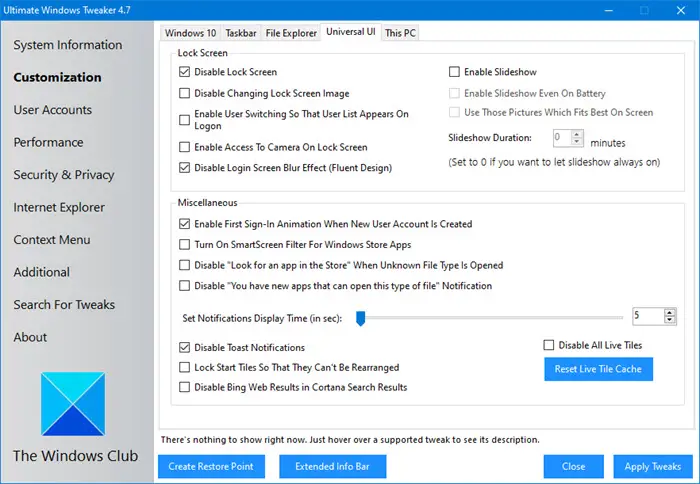 Download it, extract the contents, and then run the executable.
After opening it, navigate to Customization > Universal UI > Disable Bing Web Results.
If you want to get it done via the Registry, here are the steps: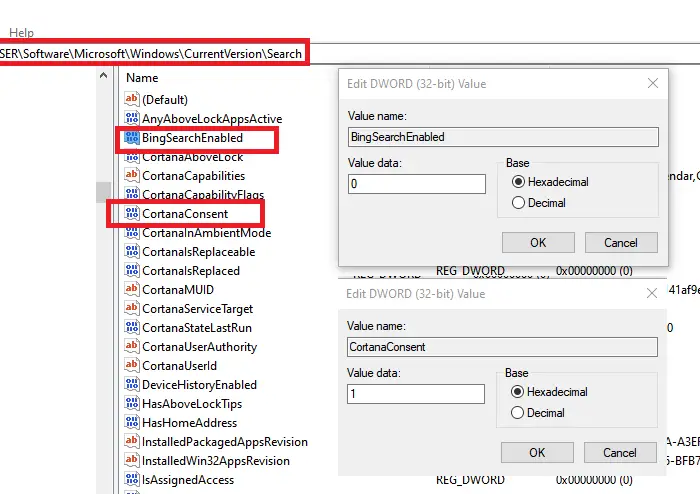 Open Registry Editor
Navigate to:
HKEY_CURRENT_USER\Software\Microsoft\Windows\CurrentVersion\Search
Here you need to create a new DWORD(32-Bit) Value. Right-click on the Search folder, and create the key with name BingSearchEnabled
Once the key is available, double click to edit it, and set the value to 0 (Zero). Click the OK button to save the value.
Next, Locate another key with the name CortanaConsent. Set the value to 0 (Zero) as well. If the key is not available, you can create it. It is the same as the BingSearchEnabled key.
Next, open Task Manager from the taskbar, locate Windows Explorer under the Processes tab, right-click, and select Restart.
If you want to enable it again, set both of them to one, and you should see Bing features in the result back. I think it is about time, Microsoft completely disables Bing from Windows 10 and offer it as an option, and let the end-user decide if they would like to use it. Microsoft recently rolled out an update to fix the search issue, but it looks like it caused another problem.