Bing has announced a number of updates to Bing Maps. This includes nearly  270 terabytes of Bird's Eye Imagery data – so far the largest shipment of Bird's Eye imagery! Just for a comparison 270 terabytes of data is equivalent to 100,000 DVD's. Bird's Eye Imagery is captured at a 45° angle, giving depth and three-dimensionality.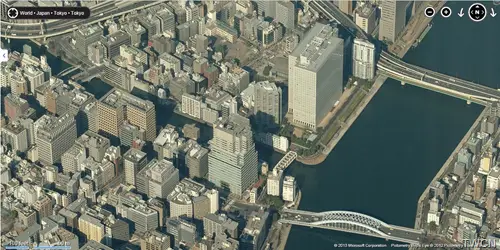 Largest shipment of Bird's Eye imagery added
Till date Bing has published a total of 1,452,958 sq km or half a petabyte of data of Bird's Eye imagery from around the world. The yellow in the below world map represents the new Bird's Eye coverage from this new release.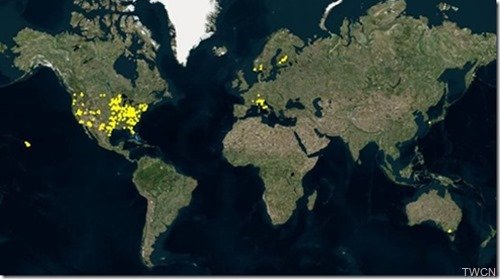 You can view some stunning Bird's Eye imaginary of various places across the world using the following links –
Expanded venue maps
Other new feature added is of Expanded venue maps. Venue maps provides detailed maps illustrating a point of interest. Such venue maps can be useful when suppose you want to locate your seat location in a football match from your Seat number in the ticket or suppose you got lost in some American Mall, airports, Singapore zoo  or amusement parks. In such cases Venue maps can be handy. You can use them on your Windows Phone, tablet or a PC. Bing maps has provided more than 4700 Venue maps in more than 59 countries.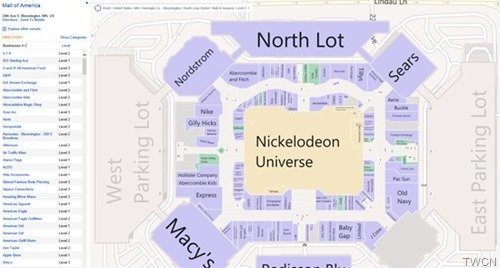 When you are on Bing maps and within a zoom level of 1000 feet, purple and green polygons will appear to indicate particular points of interest for a given venue. Green indicates restaurants, stores appear in purple. On clicking any outlined polygon, a directory with complete list of point of interest appears providing visual exploration of additional floors of the venue. Check out some Venue maps examples –
Report a problem
Bing maps has now added "Report a problem" feature. If you come across Venue maps outlined feature that is not correct, you can report it. Just click on the incorrect point of interest and click "Report a problem".
Here's an example of walk-through at Hartsfield-Jackson International Airport, Atlanta, Georgia W8 Link | Bing Maps Link
Click on US Post Office, then click "Report a problem"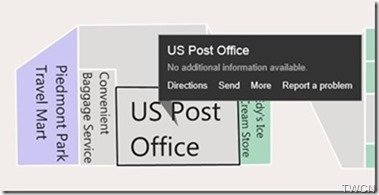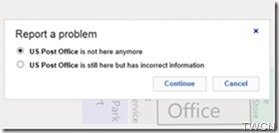 So these are the exciting features added to Bing map. Check out the mind-boggling 270 terabytes of Bird's Eye new Imagery data to see amazing images. Hope to see such features are included for many more places around the World in the future.
As posted in the beginning, 270 terabytes of data nearly equals,100,000 DVD's. There was such an interesting infographic provided by Microsoft earlier about the amount of data. This Infographic from Microsoft gives an idea of how much 150 petabyte means.