Since the launch of Outlook.com last year, in the process of retiring Hotmail email service, we have been seeing its continuous build up with regular feature additions. Listening to various users feedback, Microsoft has been implementing changes. When its preview was launched, its goal was  to build the best email service in the world, capable of scaling to over a billion active customers. And when we saw it coming out of Preview, it was already the fastest growing Email service in the World  built from the ground up–all the way from the data center to the user experience and everything in between.
We have also seen the Android app for Outlook.com getting a major upgrade with a fresh new look, 2 step verification, 32 new country-specific domains and very recently Skype video calling feature being introduced in Outlook.com Inbox. As one can see, Outlook.com has been making continuous progress.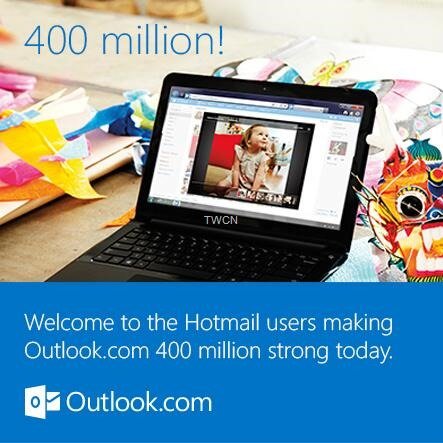 400 million active Outlook.com accounts at present
Microsoft now announced that the Hotmail to Outlook.com upgrade is over. Let us check some points –
Upgrading of all Hotmail customers to Outlook.com completed
This migration included migrating 150 petabytes of email in just 6 weeks, that is 150 million gigabytes of data
Every person's mail, calendar, contacts, folders, and personal preferences were preserved in the upgrade
All this was done with a live site experience handling billions of transactions a day
Over 400 million active Outlook.com accounts at present
this also includes 125 million on mobile devices using Exchange ActiveSync
150 petabytes of email migrated
This Infographic from Microsoft will give you an idea of how much 150 petabyte means.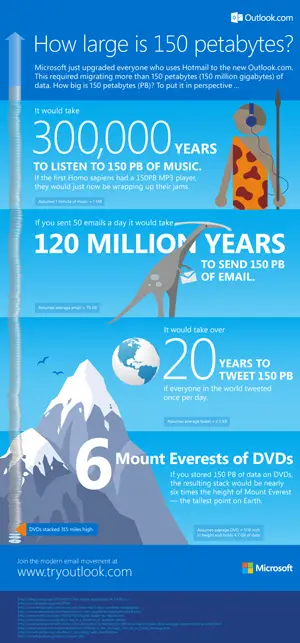 As you can notice it's a huge task of migrating involving mind boggling data with a completely new experience from the old Hotmail. Here's the UI comparison of the old Hotmail with the new modern look and experience of Outlook.com.
Check the old Hotmail.com look.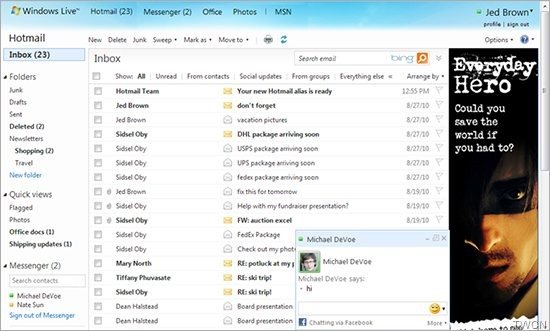 And the clean, modern look of Outlook.com.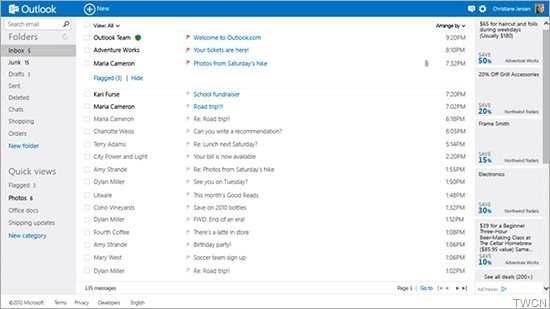 Of course there will always be some people who may not like this change as can be seen in the feedback. Microsoft is indeed trying to strike the right balance between bringing out major improvements and keeping true to what our customers love. As people start using it, they'll start to like it just like their old Hotmail. Microsoft is keenly listening to all the feedback and making the right set of adjustments accordingly. So if you want to provide feedback, or wants some new features, do provide them.
Now that this huge migration is over, Microsoft is turning its energy to provide more features, innovations. We have already seen many updates, feature additions during these weeks too – but we will see more now. And now they have started to roll out few more and added two more – SMTP send and deeper SkyDrive integration
SMTP Send  feature in Outlook.com
In the past we have always been able to send and receive email from other accounts using your Outlook.com account. Say you have switched from Gmail, but are still using that Gmail address in Outlook.com, when you reply, the recipient used to see the email being sent "on behalf of" that other account. So this was a problem if someone had a hidden alias.

But now that email sent from a different account goes through that account's SMTP server. That way, the recipient just sees that account's email address: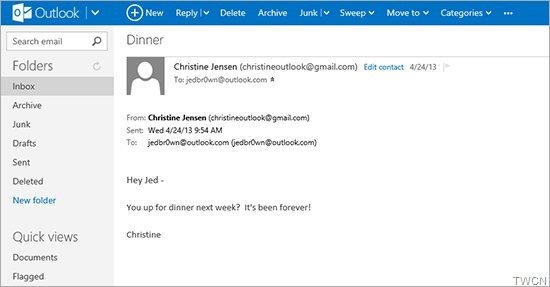 And this should work for any email provider providing POP or IMAP access. You can access this feature from – Options menu , click More mail settings, click Your email accounts, and then scroll down to the section titled Add an email account. From there, you can Add a send-only account or Add a send-and-receive account, and Microsoft will configure the SMTP server settings as part of that.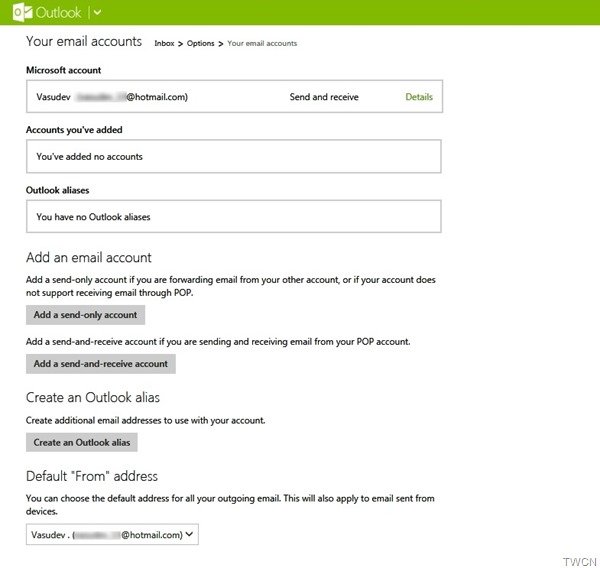 This feature is being rolled out worldwide. One can check if they have already got this update.
Deeper SkyDrive integration in Outlook.com
Another new feature is direct integration of SkyDrive into the Outlook.com compose experience. Now it has Insert Menu with options Files as attachments, Pictures inline, Share from SkyDrive. So when you send an email message, you can select files from your SkyDrive and it'll be automatically turned into the right thumbnails with links that have the right permissions.

So you automatically get a beautiful photo mail.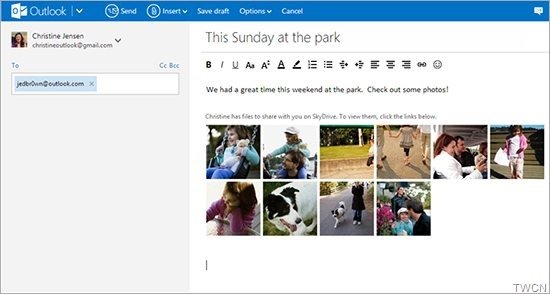 This new integration is starting to roll out and will be available worldwide in the coming weeks. Go here if you want to know more about Hotmail to Outlook.com automatic upgrade.
More features will be added in the coming days. So keep sending more feedback on Outlook.com – the best and fastest growing personal email!