A major upgrade for the Outlook.com app for Android devices was announced last week. This update overhauls the entire user interface and also adds number of new features.
While Exchange ActiveSync provides a rich, powerful, network-optimized experience for Windows Phone, iOS and other mobile devices, the native support for Exchange ActiveSync on Android devices varies significantly. Microsoft therefore decided to build a separate app to ensure a better Outlook.com experience across all their devices.
Although as we had seen that overall experience of Outlook.com was great, as it became the fastest growing email service in the world, the Outlook.com app for Android was lagging behind. With this upgrade you can get the same Outlook.com look and feel, you've seen on Windows 8 and the web, on your Android devices. This is a major update after the release of Outlook.com email app for Android devices last year. So if you are using Android devices, you definitely want to check it out.
Outlook app for Android
Here are some screenshots of the new app –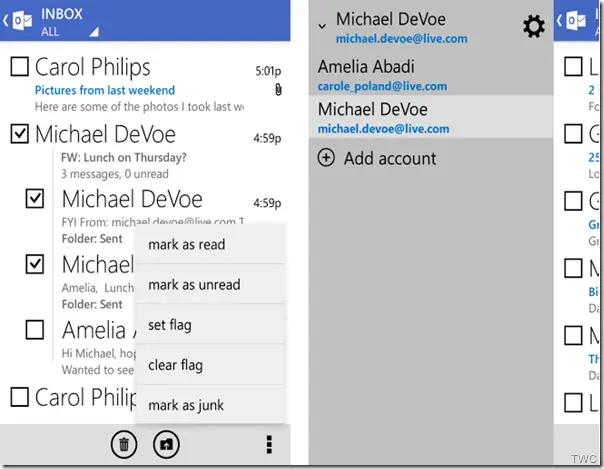 Key features:
Great new look and feel
Push notifications to get emails right away
Sync with your device Calendar and Contacts
View and sync standard and custom folders, including sub-folders
Group your email conversations with Conversation Threading
Filters for unread and flagged mail
Ability to mark messages as junk
Send, receive, and view photos and other attachments
Easy to use search functionality
Use with multiple Outlook.com accounts
You can get the latest Outlook.com app for Android devices from here. Android versions supported: 2.3, 4.0, 4.1 and 4.2
Get it and let us know your views.