We had posted last month about Skype integration with Outlook.com – and today Microsoft announced that a preview of Skype video calling and messaging had started rolling out in Outlook.com. thus bringing two great communication experiences together all into the Outlook.com Inbox.
"This Skype for Outlook.com preview is beginning to roll out in the United Kingdom and will be made available in the United States and Germany in the coming weeks. In the coming months, audio and video calling powered by Skype will be available in every Outlook.com inbox… "  "We'll gradually make Skype calling available to all our Outlook.com customers as we update the experience based on your feedback."

"Now, with Skype for Outlook.com, you can choose the right medium for your message, whether it is an email, call, video call or instant message (IM) — you can connect with your Skype and Messenger friends all in the same place."
Setting up the Skype account in Outlook.com
Microsoft has posted how to set up a Skype account when it made available in your Inbox. Once available, you'll see the icon near the top in Outlook.com and message informing you to get started with Skype.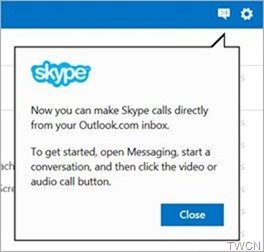 You don't have to create a new account as you can use your existing Microsoft account. And if you already have a Skype account, you can link and merge it to your Microsoft account and your Skype contacts will appear in your contact list. You can call or message them directly from Outlook.com.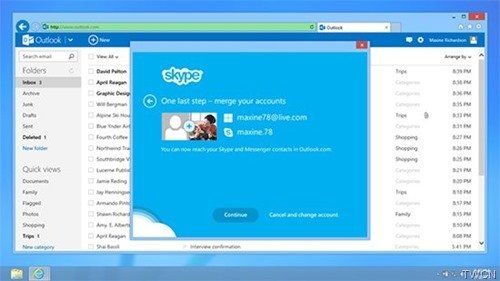 Once your account is set up, you'll have to install the Skype web plug-in for your browser. The first time you try to make an audio or video call, Outlook.com will prompt you to install this plug-in. Once installed, you will soon find yourself making video calls in no time.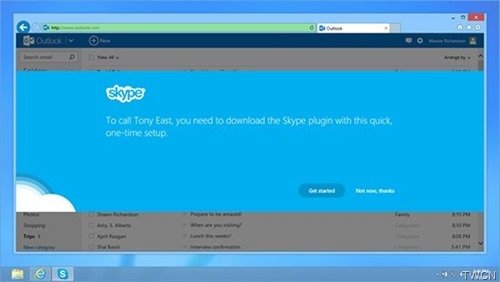 Making Skype calls is just a click away –
After setting up, if you want to send a message or call someone, its just a click away. Just click on their picture and you'll see all the different ways you can reach them.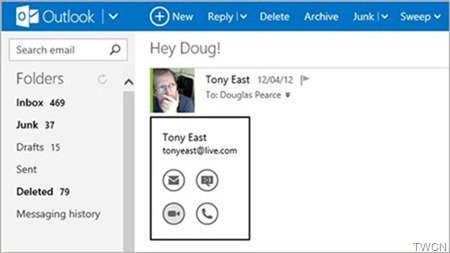 To start a call while reading an email on Outlook.com, Click on your friend's picture and click on the Skype audio or video call buttons that appear above his or her contact details.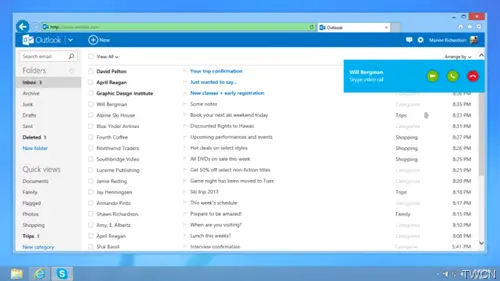 Apart from this you can reach someone in other ways too.
Just open the Messaging pane,  type in your friend's name and you'll be provided with the option –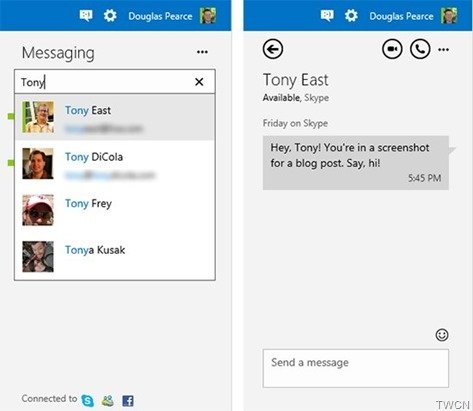 Or you can search your friend in People and send a message or start a call –
And you can call your Messenger buddies too, those Messenger friends who have recently been upgraded to Skype.
"With Skype and Outlook.com, Messenger customers can call their Messenger buddies from a web browser or from any Skype client."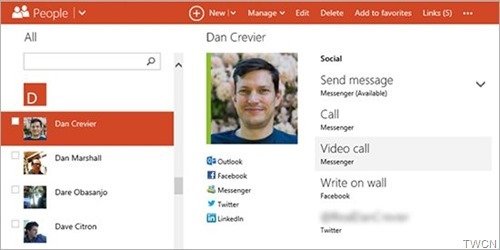 And this is how it looks doing a Skype video chat within Outlook.com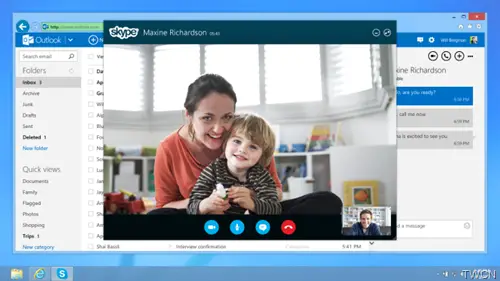 Check out the videos demoing the same
[youtube http://www.youtube.com/watch?v=dNRj5fnzjN4&hl=en&hd=1]
[youtube http://www.youtube.com/watch?v=meT0MN_wh0A&hl=en&hd=1]
While Outlook.com has seen a number of feature updates over the months, this Skype integration in Outlook.com is one of the major things to happen after  Microsoft acquired Skype.
So as we look forward to its preview for UK customers from today – and in coming weeks for US and Germany, we hope soon it'll be rolled out soon to all Outlook.com users, as Microsoft updates its experience after getting the feedback. If you haven't got an Outlook.com account, get one today.