Annual State of the Union is considered to be as one of the biggest political nights. With this regard, the opinion of the viewers and analysts hold lots of importance and to make their voice stronger MSNBC and CNN has decided to use Microsoft's Bing Pulse for the purpose of echoeing live audience sentiments.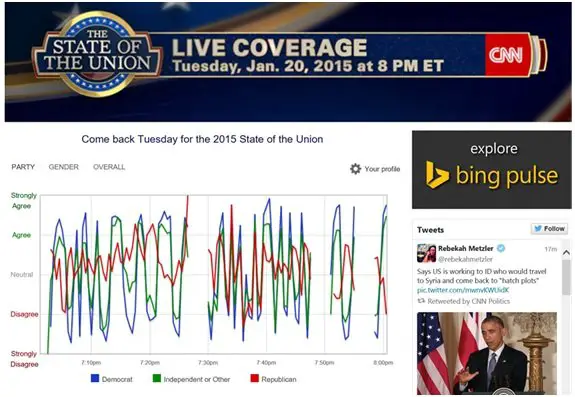 On Tuesday, January 20, when the State of the Union broadcasts begins, both viewers and analysts will have the opportunity to know what audience really thinks about the speeches delivered by the President.
The proposition behind Microsoft Bing Pulse is to give viewers a platform to express their own point of view. Bing Pulse will give the audience a voice with the real time feedback during the event. This will create a greater audience engagement to the event and will deliver the viewer sentiment directly. All voting will be unidentified and there will be no data record. So to make your voice heard during the CNN or MSNBC broadcast event you need to visit bing.com/CNN or pulse.msnbc.com.
Definitely, the viewers have many others mediums to give their opinion, but mostly there feedbacks are usually recorded individually.  With Bing Pulse, the viewers can vote on every four to five seconds and all feedback will be displayed on the screen collectively during the broadcast. Organizers will be able to use Bing Pulse to allow their viewers share their feedback in the event itself. The effectiveness and the ease with which Bing Pulse comes, it is something that makes it a popular tool that is being used constantly for the participant of the viewers in the live events. Moreover, Bing Pulse provides benefits to both organizations and viewers, including event organizers, broadcasters, news press  and many more.
The general manager of advertising and strategy Josh Gottheimer says ' During the last CNN broadcast, viewers used the Bing Pulse application to cast 300,00 votes in just 10 minutes'. He also added, Microsoft Bing Pulse is being a part of MSNBC and CNN since 2014 US midterm elections and in future it will continue to play an important role during the 2016 presidential elections.