Bing may not be the most popular search engine, but it is famous for its daily pictures. I use it on my phone, desktop and anywhere, Bing makes it possible. The images are just incredible. Today, Bing has turned 10 years old, and Microsoft is giving out gifts which include reward points, free wallpaper packs, and a shot to win a Surface Go or $1900 travel gift card!
Bing is 10 years old
So how do you win it? It is easy and straight forward. Open BingIs10 on your browser, and it will display a collage of tons of photos Bing has published over a decade. Here is how it looks like when you visit the website.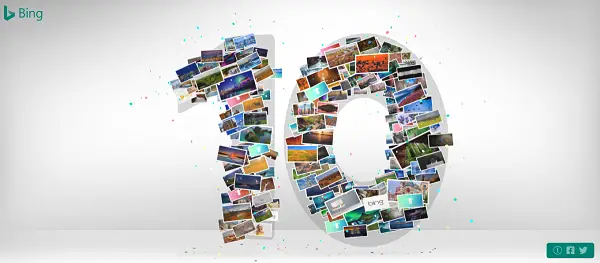 Hover over any image, and click on it. It will open in a small popup window which will show you the picture. To participate in the contest, you need to open images one after the other. One of those images will have a gift for you.
Explore Bing Photos & Win Surface Go or $1900 travel gift card
Sharpen up your eyes! If any of the images is not looking like a Bing Image, it is carrying a reward or something free which you can claim. So, for example, when clicked on the greenish looking image with a man looking icon, it gave me rewards.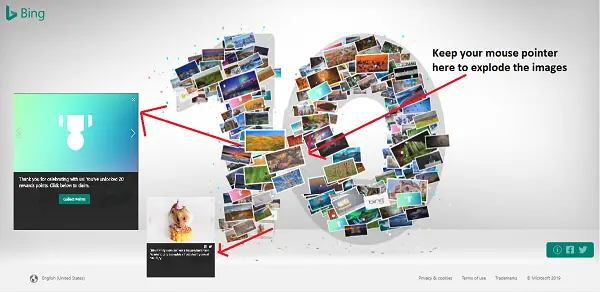 Here is another technique to look through the images. Hover your mouse over the photos, and it will explode out letting you get a better look at those images.
Some images will also share the history of Bing. If you see a picture with Bing on it, you can click on it to know the details.
So you will need to keep looking patiently around those images and maybe reload to get a fresh set of pictures and rewards. Microsoft hasn't shared any details on how many you can win, so keep trying is all we can say.
PS: Only the rewards points and free wallpaper packs are available now. The Surface Go and travel gift card sweepstakes have ended.