Microsoft's search engine Bing brings an interesting "Hometown Homepage Photo Contest" for photographers on this World Photography Day. The winning picture will be showcased on the Bing homepage on October 1 along with the picture of the photographer. The winner will also get new Nokia Lumia 1020, 500px membership and canvas of the winning photo.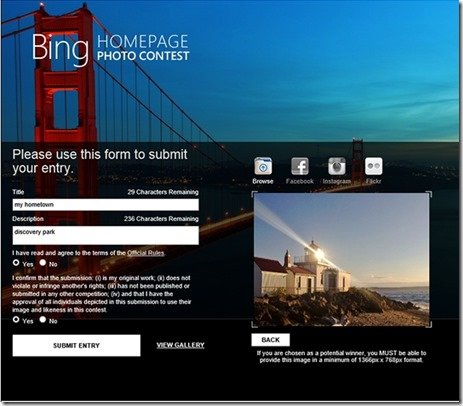 Along with these exciting prizes, Bing and The Nature Conservancy together will celebrate the winner's creative contribution and hometown pride by hosting a day of service in their hometown. Bings asks for "Images that highlight and capture the beauty of your hometown."
The contest starts today on August 19, 2013 and will conclude on September 3, 2013. Photographers can submit beautifully captured pictures of their hometown on Bing's Homepage App on Facebook.
Bing brings this interesting photo contest in collaboration with Discovery Communications and as per the official blog post, photographers can submit their photos till September 3. On September 10, Bing will announce 10 finalists whose photos will be displayed on Bing's Homepage App on Facebook.
The final result will be based on the votes. Fans can vote their favorite photos on the Bing's Homepage App on Facebook and the photo with maximum votes will be declared the winner.
The Windows Club wishes you all luck and "Happy World Photography Day". Set off with your lenses and submit your clicks on Bing's Homepage App.