Microsoft's OneNote is a powerful note-taking tool which can capture almost anything and can be used anywhere, i.e., offices, schools, and homes. If you are new to OneNote and want to know what it can do, Microsoft has released Charts to showcase the best features and functionalities.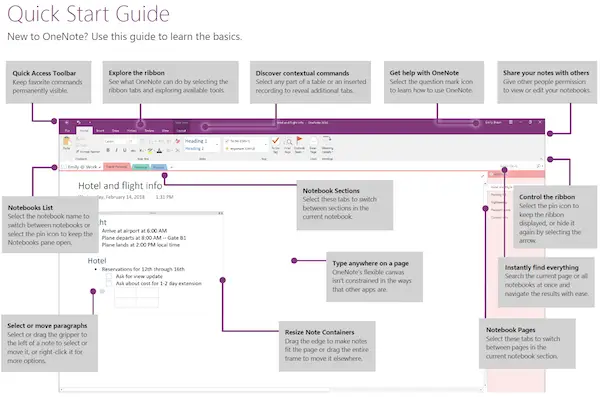 OneNote Quick Start Guide to help you get started
The first chart highlights all the features and tools available on OneNote. Notebook list, sections, pages, ribbon menu, and so on. While it is simple but for those who are new to OneNote.
The second chart highlights about its availability, auto-save, and non-paper required the feature. Just like other Microsoft apps, OneNote is available on all platforms. You dont need a Windows machine to run Microsoft software.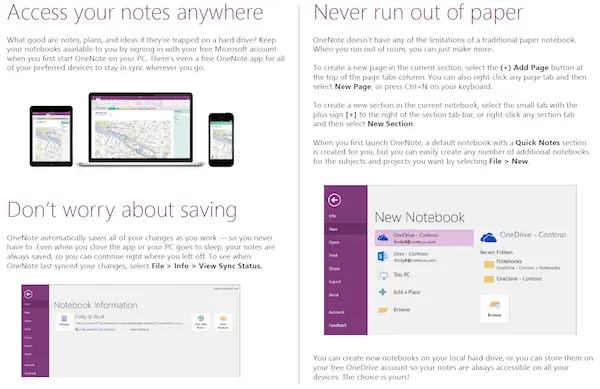 OneNote can sync with OneDrive automatically, so you have to worry, and the best part is that you save a lot of paper. You can keep adding any number of pages in OneNote. Taking a print out is not a problem, but then we will end up taking a print out of only essential pages.
Related: OneNote Features you should be using!
The third chart highlights the essential features of OneNote. You can use Tags to prioritize or categorize selected notes visually. The software also offers you to create a table which is commonly used in Word and Excel. Then you have the option to create wiki-style hyperlinks and copy text from pictures. The later is a handy feature.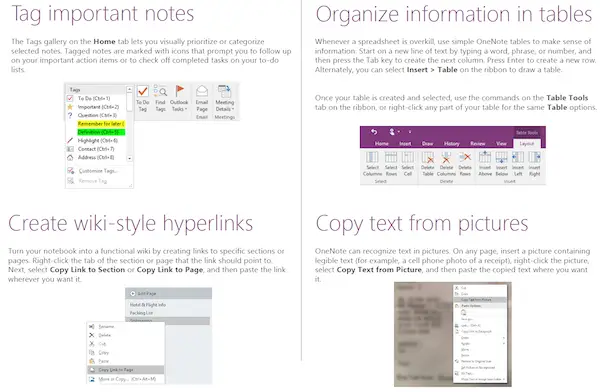 You can also record dictation directly in OneNote.
The fourth chart highlights about OneNote sharing, getting more help, other Quick Start Guides, and what else you can do with OneNote.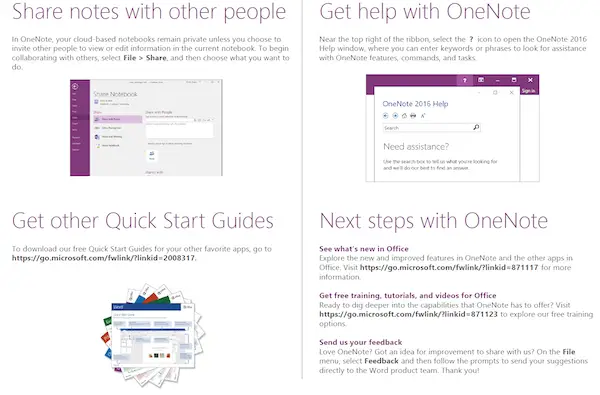 OneNote can also take handwritten notes, or you can draw ideas using a stylus or your finger. Highlighting and tags are incredible ways to follow-up. You can share notebooks to collaborate with others and access your journals from any device.
All in all, OneNote is an impressive tool and useful for many. The best is that its free and sync across devices. You can download them from Microsoft.