It is not easy to get into Chrome's recommendation for the default search engine, but Ecosia has made it through. It's a not for profit search engine with a novel cause. It uses the ad generated revenue to fund planting trees. Google is making changes to the open-source Chromium Engine, and Ecosia will be added from version 81. Once the update appears, Ecosia will even have a great chance to reach out to more people and keep doing their work for the environment.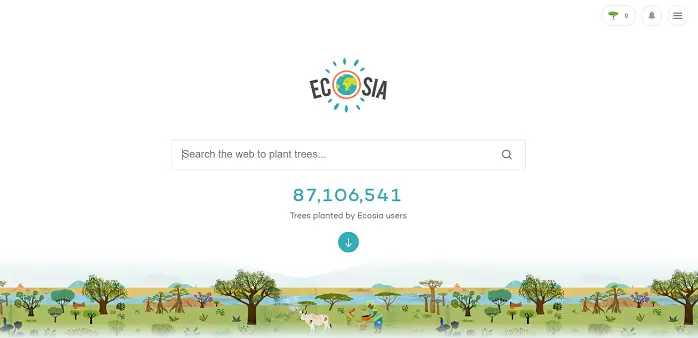 Chrome to offer Ecosia as a default search engine
Ecosia has joined other search engines like Google, Bing, DuckDuckGo and Yahoo! as a default search engine option in 47 countries. Gaining visibility across Chrome's huge user base means that it's even easier for millions of people to make the switch to Ecosia and reforest the planet.
Google only includes a search engine when it is popular, aka search engine popularity rankings in different markets. Ecosia usage growth exploded in 2019, which raised from 8 million to 15 million active users. Now that it will be available as the default search engine and users will have the choice, they will gain more exposure. The company uses 80% of advertising profits for the reforestation project, and if you look at their counter on the home page, they have planted 86 million+ trees since 2009. That incredible.
The full list of markets where it will be offered as a choice in the version 81 release includes Argentina, Austria, Australia, Belgium, Bahrain, Brunei, Bolivia, Brazil, Canada, Switzerland, Chile, Colombia, Costa Rica, Germany, Denmark, Ecuador, Spain, Faroe Islands, France, Guatemala, Croatia, Hungary, Ireland, Iceland, Italy, Lebanon, Liechtenstein, Luxembourg, Mexico, Nicaragua, New Zealand, Oman, Panama, Peru, Philippines, Puerto Rico, Portugal, Paraguay, Sweden, El Salvador, Taiwan, United States, United Kingdom, Uruguay, Venezuela, and Vietnam.
If you want to give Ecosia right away, visit the ecosia.org website, and then in Chrome, switch the default search engine or add it manually using the following in the search URL:
https://www.ecosia.org/search?q=%s&addon=opensearch
The option to change the default search engine is available in the Settings section. You can also use the Chrome extension, which will make sure Ecosia remains the default search engine once installed.
Those concerned about Privacy, Ecosia, takes care of that too. According to their privacy page, they don't save search terms, there is no tracking, no data is sold to advertisers, and searches are always encrypted. However, they do track to improve their service, which can also be turned off if you activate Do not track setting in the browser.