Microsoft has announced the availability of a new Excel feature for Mac users: Data from Picture. As a result, Mac users can now convert data from printed documents into Excel spreadsheets. This photo scanning functionality to insert data from the picture is already available in Excel mobile app.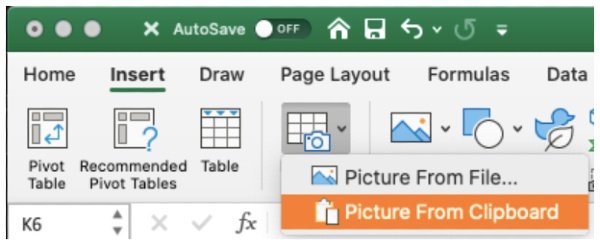 Excel for Mac gets photo scanning feature
Now that Excel has extended its capability to turn images with data into spreadsheets to Mac, we can expect this feature to arrive on Windows in the future.
In its recent blog post, Microsoft wrote:
"Have you ever had to transcribe some data from a printed page into Excel by hand? Wouldn't it be a lot easier to just take a picture and have Excel do the tedious work for you? Of course, it would, and we couldn't agree more."
New Data from Picture feature for Mac allows Excel users to easily import data from a screen clipping on your clipboard, a picture file, or a digital document from your computer, or your mobile phone's camera.
Thanks to this feature, Microsoft Excel wants to make things easier for Mac users, eliminating the need for manual data-entry efforts to a significant extent using modern image-recognition and scanning technologies:
"There's no need to type all the data. Excel can do it for you!"
Ways you can convert images into Excel spreadsheets on Mac
You can choose either 'Picture from File' or 'Picture from Clipboard' to scan documents and convert image data into Excel spreadsheets. Go to Excel for Mac > Insert > Data From Picture > Data From File.
Or you can also copy an image of a table to your clipboard. You can take a screenshot of a table by using a keyboard combination and then select Insert > Data From Picture > Picture From Clipboard.
Right-click a cell, and select Scan Documents. However, you must have an iPhone configured to use Continuity Camera. Now, capture a picture of a document with a table in it, tap the Save button to send it to Excel.
Here's how to turn pictures into Excel sheets
Once you have captured a picture of the table you want to include in Excel, the Data from Picture dialog box opens and shows the progress It goes without saying that you can always review the results and make any corrections necessary.